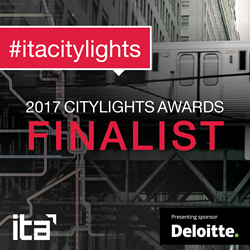 "Year-over-year we have seen that the CityLIGHTS Awards is a barometer for success in the community, often predicting who or what will be the next big thing." ~ Julia Kanouse, CEO, ITA.
Chicago (PRWEB) August 08, 2017
cleverbridge, a provider of global commerce, billing and payment solutions, announces that the Illinois Technology Association (ITA) has named cleverbridge a finalist for the 2017 ITA CityLIGHTS Lighthouse Award. Now in its 18th year, the ITA CityLIGHTS Awards is the premier annual event elevating and honoring achievements from the local tech community. Winners for each of the eight award categories will be announced at a gala event on September 14 at Morgan Manufacturing in Chicago.
The Lighthouse Award recognizes a growth-stage company (i.e., more than $25 million in revenue) that, through innovation in products, services or business approach, has grown to become a serious competitor in the marketplace. All award finalists are selected by a panel of accomplished judges representing a Who's Who in Illinois technology. The public can contribute to the selection of this year's winners by voting from August 7-18 at http://www.itacitylights.com/voting. Winners will be determined by a composite score of the judges' scores and voting by the public in all categories except the Industry Champion, which is determined solely by the ITA Board of Directors.
"Year-over-year we have seen that the CityLIGHTS Awards is a barometer for success in the community, often predicting who or what will be the next big thing," said Julia Kanouse, CEO, ITA. "This year's finalists are no different. I expect they will be driving the industry forward for years to come."
"We are thrilled and honored to again be recognized by the ITA as one of the top innovators driving growth in the technology industry and in Illinois," said Craig Vodnik, co-founder, cleverbridge. "I view the Lighthouse Award as a testament to our entire organization. Our achievements over the last 12 years would not be possible without the collective efforts of every cleverbridge team member and the community we support."
This is the fourth consecutive year cleverbridge has been named a finalist in the ITA CityLIGHTS Awards; the company was named a Lighthouse Award Finalist in 2015 and 2016, Outstanding Technology Development Award Finalist in 2016, and co-founder Craig Vodnik was named a CEO of the Year Award Finalist in 2014.
cleverbridge was recently named a 2017 SaaS Awards Finalist (Best SaaS Product for Ecommerce/Online Shopping); a finalist for two 2017 European IT and Software Excellence Awards (Enterprise Solution of the Year and Small and Medium-sized Enterprise (SME) Solution of the Year); and named in the "Accel EuroScape", a list of the top 100 most promising SaaS companies in Europe and Israel. The company was also named a 2016 SIIA CODiE Awards Finalist (Best Subscription Management Solution) and 2017 Computing Digital Technology Leaders Awards Finalist (Best Place to Work in Digital - Large Organizations). cleverbridge has also been identified as a "High Performer" in the G2 Crowd Grid for Ecommerce Platforms, based on customer satisfaction and market presence.
To view the 2017 ITA CityLIGHTS list of finalists or cast your vote for the award category winners, visit http://www.itacitylights.com between August 7-18. To learn more about cleverbridge, please visit http://www.cleverbridge.com/corporate/grow-recurring-revenue-video.
About cleverbridge
cleverbridge provides flexible commerce solutions for monetizing digital goods, online services and SaaS. Our cloud-based commerce platform simplifies recurring billing, optimizes the customer experience and offers comprehensive global payment capabilities. Leveraging cleverbridge expertise, technology and services, clients effectively increase customer acquisition and retention while rapidly expanding into international markets for revenue growth. cleverbridge is headquartered in Cologne, Germany with offices in Chicago, San Francisco and Tokyo. For more information, visit http://www.cleverbridge.com.
About ITA
The Illinois Technology Association (ITA) scales Illinois tech companies. With innovative resources that allow members to collaborate with each other, build their talent networks and elevate their local and national presence, ITA is the region's strongest advocate for fostering innovation and growth. Founded in 2005 and supporting 500-plus growth-stage tech companies, ITA has a rich history of driving business forward. For more information, visit illinoistech.org, follow @ITAbuzz on Twitter or find us on LinkedIn.