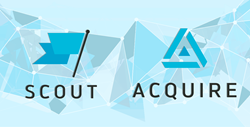 "By integrating with Zapier, we allow our customers to connect with a huge number of commonly used apps in a way that can be custom-tailored to each customer" ~Mike Spencer, Senior UX/UI Engineer
BUFFALO, NY (PRWEB) August 09, 2017
Pointman, a software and app development company, now offers integration with Zapier. As of now, two apps in the Pointman suite, Scout and Acquire integrate with hundreds of web-based applications supported on the Zapier platform.
As a company, Pointman strives to make the average user comfortable using their software. The owners and developers of Pointman aim to create apps that are accessible to anybody regardless of the software they use on the back end, or on their level of technological ability.
Zapier takes the complicated coding out of integration for the user. Zapier offers easy automation between hundreds of different web apps, like Google Docs, Slack, and Xero. They offer automation and integration solutions for the busy people who want efficient solutions. Zapier connects over 750 apps across the web. It was designed to be set up without a developer's help, putting the power into the hands of the user. It allows apps to communicate through "Zaps" or commands. When one app completes a command or "trigger," then a different app completes the next assigned task or "action."
Using Zapier allows Pointman apps to seamlessly integrate with companies and the other applications they may use to run their business. The simplicity and the short turn around time are the main points of this partnership that will make Scout and Acquire even more customer-friendly.
"Zapier empowers our customers to realize the full potential of their data they collect with our apps, by allowing them to easily use that data in over 750 other apps! Very powerful stuff!" says Chief Technology Officer at Pointman, Will Kerber.
Mike Spencer, Senior UX/UI Engineer at Pointman notes, "By integrating with Zapier, we allow our customers to connect with a huge number of commonly used apps in a way that can be custom-tailored to each customer. When a form is submitted in Scout, a trigger can be set up in Zapier that pushes a notification to Slack or adds data to a Google Sheet or creates an event on a Google Calendar. There are a ton of possibilities."
This new opportunity will allow Pointman customers to have even more control of their data. Complete data analysis can help users meet their sales objectives, and can be a valuable tool to small businesses. Pointman's suite of apps focuses on enhancing and improving the day-to-day workload for professionals in the field and home service industries. The integration with Zapier will help these same companies to grow, improve communication, streamline operations, and more.
About Pointman
Pointman is a company that develops mobile and digital products for home service and field service companies. Products include SWRemote, the mobile application for Successware®21, Field Nimble, an all-in-one field management app, Scout, a digital form building app, and Acquire, a digital proposal building app.