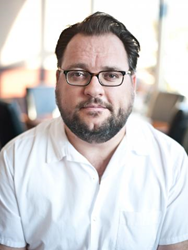 NEW ORLEANS (PRWEB) August 08, 2017
Thirteen of the nation's top chefs represented their home state and battled for the prestigious title of America's Best Seafood Dish at the 14th annual Great American Seafood Cook-Off on Saturday, August 5. Seafood Nutrition Partnership ambassador and seafood sustainability pioneer, Chef Ryan Nelson, was chosen to represent Indiana.
GASCO, hosted by the Louisiana Seafood Promotion & Marketing Board, was created to showcase the superior quality of domestic seafood. During the grueling culinary face-off, each chef prepared a dish that best promoted the use of U.S. seafood while interacting with a live audience, celebrity hosts and the panel of nationally acclaimed judges.
Each chef was encouraged to build a dish around regional foods from his or her state, which is something Nelson does daily at his Indianapolis restaurant, Late Harvest Kitchen. In Indiana, that means featuring seafood from the Great Lakes or from one of 40 local aquaculture and aquaponics farms that provide delicious options including shrimp, salmon, hybrid striped bass, tilapia, and yellow perch.
"It's great to represent Indiana, a (mostly) land-locked state, and showcase what is available to us in the middle of the country," he said.
The 45 miles of coastline in Indiana is that of Lake Michigan, which offers a decidedly different bounty than GASCO competing chefs from states such as Alaska, Florida and Louisiana. At his restaurant, Chef Nelson, who is an avid fisherman, features lake trout and walleye frequently, and smelt is a surprising menu favorite.
For the competition, in which he had just one hour to cook, he made Lake Michigan Whitefish Rossejat. The Spanish-style dish uses toasted dried pasta to offer a unique flavor profile, which also included local Fowler, Indiana-raised shrimp along with Spanish chorizo, aioli, and a tomato and saffron sofrito sauce.
"I felt proud of the dish we did," said Nelson, who was aided at the competition by his wife, Laurie, who is co-owner of their two restaurants. Despite not taking home the crown, Nelson said he would definitely do it again in the future. "We had fun competing and met some great people," he said, adding that he enjoyed educating fellow chefs and the audience on the virtues of lake fish.
"This year's competition was one of the toughest yet," said Louisiana Lt. Gov. Billy Nungesser as he crowned the winner.
Seafood Nutrition Partnership (SNP) is the leading 501(c)3 non-profit organization in the U.S. building awareness of the health and nutritional benefits of seafood. SNP is addressing the country's public health crisis through education programs that inspire Americans to incorporate more seafood and omega-3s into their diets for improved health as per USDA Dietary Guidelines. In October 2015, SNP launched a national public health education campaign. For more information, visit SeafoodNutrition.org.