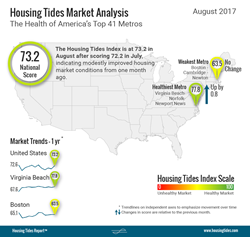 This month's Index update reveals an improvement in housing market health as 32 of the 41 markets tracked by Housing Tides saw improved conditions.
Denver, Colorado (PRWEB) August 14, 2017
This week marks the release of the August Housing Tides Report™, featuring an update to the Housing Tides Index™, an objective and sophisticated approach to quantifying and comparing the health of U.S. housing markets. This month's Index update reveals an improvement in housing market health as 32 of the 41 markets tracked by Housing Tides saw improved conditions.
Understanding the health of a housing market and its relationship to other top markets requires an aggregated, comprehensive view of the industry. The Housing Tides Index provides a succinct monthly measure of market health across the top 41 U.S. markets. Referencing 18 market indicators ranging from unemployment rates and housing permits to rental vacancy and mortgage foreclosure rates, the Tides Index helps users understand exposure at a deeper level than is currently possible.

Real estate brokerage Redfin reported that there were nearly 95k fewer homes for sale in the U.S. in June when compared to June 2016. At the current sales pace this inventory amounts to just 2.5 months of supply, a post-recession low and far below the six months of supply that is regarded as balanced between supply and demand. Consequently, the median price for homes sold reached $298k in June, its highest level since the company began tracking the data in 2009. Median sales prices have risen 7.6% from $277k in June 2016. The U.S. Case-Shiller Index of home prices also reached an all-time high in May per latest data from S&P and CoreLogic, and is up over 5.5% in the last year. Home price gains continue to exceed wage increases, as U.S. per capita personal income was estimated at just over $50k in 2017Q2 and had increased only 2.1% from one year ago.
It's clear that homebuilders have ramped up the pace of construction in an effort to satisfy the sustained demand for housing. Census data show that there were 81.8k U.S. single-family permit approvals in June, the highest monthly total since August 2007. This observation gives reason to be optimistic about new construction efforts helping to balance the market between buyers and sellers and ease home price increases. However, we should note that the Census Bureau estimates June housing permits at a 1.28M seasonally-adjusted annual pace, which remains lower than the approximately 1.5 million units the country needs per year. Using Census data, we estimate the long-run average pace of homebuilding was 1.45M units per year prior to the onset of the 2007-09 recession.
According to the Census Bureau, the U.S. rental vacancy rate has increased in the last four quarters and reached 7.3% in 2017Q2. In June we noted that the number of apartments under construction had reached a forty-year high and it's apparent that the completion of these units has begun to put upward pressure on the vacancy rate. It's likely that the increased vacancy rate will suppress rental prices and as such may translate to lower demand in the purchase market as consumers incorporate these price effects into their buy-or-rent decisions.
Assuaging worries about the uptick in mortgage delinquency observed in April, latest data from Black Knight Financial Services showed that the delinquency rate resumed its long downward trend in May. The delinquency rate is now at 3.79%, still higher than the low of 3.62% in March 2017, but considerably lower than levels observed in recent years.
As noted above, single-family housing permits increased in June, with 42,500 permits approved across the 41 markets tracked by Housing Tides. This is the highest total in these markets since June 2007. Multi-family permits rose by over a third in June, totaling 31,800, and the six-month moving average increased to a rate of 24,400 per month.
Please reference the attached graph to view the Ten Healthiest U.S. Housing Markets - August, 2017.
Click here to view the complete Housing Tides Index of the top 41 U.S. markets.
Media Exclusive! Housing Tides Media Monthly Pulse
Subscribe to our email service exclusively created for media which delivers an updated infographic depicting the latest monthly Housing Tides Index, the complete Index as it appears in the Housing Tides Report™, and a brief executive summary. All content can be shared in print and digital publications, with attribution to the Housing Tides Report.
Members of the media can subscribe to the Housing Tides Media Monthly Pulse here.
About Housing Tides
Housing Tides™ ("Tides") is the only monthly report that provides a comprehensive measure and aggregated understanding of the health of the U.S. housing and home building industry. Designed to take the guesswork out of the vast amount of forecasting information published about this sector, Tides is a sophisticated report that delivers city-specific, updated information when market conditions change. It is the only report that uses natural language processing and machine learning to correctly understand and synthesize large volumes of data, making it more comprehensive, balanced, and reliable than any other report of its kind. For further information, please visit housingtides.com and connect on Twitter, Facebook and LinkedIn.
Housing Tides is proudly partnered with IBM Watson®.