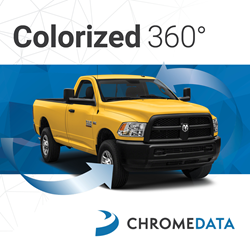 "Colorized 360° puts car buyers in the driver's seat to help them visualize driving and owning the vehicle. We know this translates to higher engagement and more vehicle sales."
Portland, Oregon (PRWEB) August 09, 2017
Chrome Data, the leading provider of vehicle merchandising solutions, images and incentives today announced the launch of Colorized 360°, a new vehicle walk-around product designed to engage customers and drive more sales.
Using Chrome Data's industry-leading vehicle images, Colorized 360° provides an interactive, customized experience that lets customers easily navigate between eight professionally colorized angles and stylized transitions for each new model. Chrome is the only provider that allows car shoppers to colorize their 360° experience.
All images correspond with OEM color names, generic colors or specific option codes to simplify the search process. Colorized 360° is equipped with a configurable player that makes it easy to customize dealer branding, logos and special programs to increase brand awareness and store traffic.
"We're very excited to provide another next generation merchandising tool for our customers," stated Craig Jennings, general manager of Chrome Data. "Colorized 360° puts car buyers in the driver's seat to help them visualize driving and owning the vehicle. We know this translates to higher engagement and more vehicle sales."
The mobile-first, responsive technology adapts to any platform and links directly to Chrome Style IDs, Acode and VIN data for seamless integration with VDPs, SRPs, campaign landing pages and more to deliver an exceptional user experience.
Colorized 360° is also available at a reduced cost as part of the new Chrome Media Bundle package that includes the Chrome Image Gallery along with Model and VIN Virtual Test Drive Videos.
About Chrome Data:
Chrome Data is the industry-leading provider of vehicle merchandising solutions and automotive content. As a subsidiary of the Autodata Group, Chrome Data offers a one-stop-shop resource for vehicle data, incentives, images and videos to help the automotive sale chain market and sell vehicles more effectively and profitably. For more information about Chrome Data visit http://www.chromedata.com