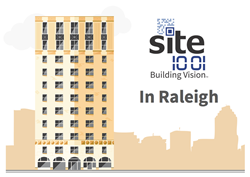 Site 1001 is looking forward to helping Raleigh not only become a smart city, but a model for other smart cities as well.
Raleigh, NC (PRWEB) August 09, 2017
Site 1001 announced today that it has selected the emerging smart city of Raleigh, North Carolina for its newest office and innovation center. The company is the maker of an advanced building management and maintenance software platform that uses artificial intelligence (AI) to help building owners and operators prevent equipment failures, eliminate waste and operate more efficiently. Site 1001 plans to work with the city and technology leaders in the region to demonstrate how an AI-based building operations platform can enhance initiatives designed to make established city infrastructure "smart."
"The number of smart projects in and around the Raleigh area is very exciting," said Site 1001 CEO, Cleve Adams. "The region hosts a unique collaboration between private, public, and academic resources that is rapidly making it a leader in the development of the interconnected technologies defining the foundation of smarter, more efficient communities around the globe. Site 1001 is looking forward to helping Raleigh not only become a smart city, but a model for other smart cities as well."
Analysts estimate nearly half of all energy and water consumption, waste products and carbon emissions within a city comes from its buildings. Site 1001's technology is designed to provide building managers highly detailed operational and maintenance information about all of their building's components — from major heating and cooling systems down to minor plumbing fixtures like drinking fountains and faucets — so they can they can troubleshoot problems quickly, reduce waste and improve a building's efficiency from top to bottom.
"Site 1001 is exactly the type of company we want in Raleigh," said Derrick Minor, Innovation and Entrepreneurship Manager at the City of Raleigh. "Raleigh is becoming an environment rich with high tech, entrepreneurial companies that not only build a cool and futuristic place to live, but create new jobs and improve the local economy. I know Site 1001 is the perfect fit to help get us to the Raleigh of tomorrow."
Site 1001 is also partnering with regional networks of academics and businesses working to accelerate the area's economy including NC RIoT, HQ Raleigh, and the Research Triangle Cleantech Cluster. Site 1001 plans to have its innovation center and interactive demonstrations of its smart building technologies available to the public in October of 2017. To schedule a visit at the new Raleigh office, please contact Site 1001. To see a full schedule of Site 1001 events, please contact Site 1001 via email info(at)site1001(dot)com, phone (949) 276-6300, or visit https://site1001.com/company/shows-events/.
About Site 1001
Site 1001 is the developer of an intelligent facilities management platform that uses core building information, building systems and sensor data in combination with a powerful machine learning engine to put the "smart" in "smart buildings." Cloud-based, mobile first, and location-aware, Site 1001 helps building owners, operators and facilities managers improve whole building performance by delivering detailed operations and maintenance information on every building component, from the major mechanical and electrical systems down to wall and floor finishes, when and where it's needed. Site 1001's AI technology continuously monitors building operations to anticipate maintenance needs and can both notify personnel as well as automatically interact with building systems to correct issues. Site 1001 makes it simple to improve efficiency, slash maintenance costs, and extend equipment lifecycles without increasing personnel requirements or workloads.
The company is based in Kansas City, Missouri, has sales offices in Southern California, and Raleigh, North Carolina, and operates a research and development lab in Bend, Oregon. For more information, visit http://www.site1001.com on the web, email info(at)site1001(dot)com, or call +1 (949) 276-6300.