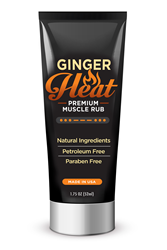 (PRWEB) August 08, 2017
BUFFALO, NY – Ging LLC, a Buffalo-based company and MW Labs, Inc. headquartered in Savannah, GA have partnered to introduce Ginger Heat Premium Muscle Rub. Ginger Heat Premium Muscle Rub is establishing its brand in the health/muscle rub category as a natural alternative to its competition promoting counter-irritant petroleum-based formulations. The deep, heated penetrating action of Ginger Heat Premium Muscle Rub allows consumers a natural alternative to traditional brands without the concern of negative side effects and in line with the growing trend to choose alternative, holistic-based products. It contains no toxins or chemicals. Product information can be found at gingerheatmusclerub.com.
"Ginger Heat Premium Muscle Rub is a powerful layered, synergistic blend of seventeen herbal ingredients in contrast to petroleum based, paraben or prescription products that are currently available," said Michael A. Warshaw, president and CEO and scientific formulator, MW Labs, Inc. "No other products on the market can compare in quality and natural ingredients."
"Whether you're an amateur, mudder, pro athlete or gardener and range from young adult to active senior, Ginger Heat Premium Muscle Rub can keep up with everybody's invigorating lifestyle," said Susan Asquith, Principal, Ging, LLC." "I couldn't be happier to partner with a company that believes in only creating the highest quality and most beneficial health-related products. We're sure our consumers will agree."
Ginger Heat Muscle Rub has been green-lighted by the Aegis Shield for pro athletic use. The Aegis Shield was created by Aegis Sciences Corporation, a forensic toxicology and healthcare sciences laboratory providing science-driven drug testing and consulting services. Since its inception as a sports anti-doping laboratory in 1990, Aegis has continued its efforts to help keep athletes clean and in the game and is the largest independent anti-doping laboratory in the U.S. Ginger Heat Muscle Rub label does not contain prohibited substances found on professional sports program's banned substances list. Additional information can be found at aegisshield.com.
MW Labs has been a pioneer in skin-care for more than three decades. Established in 1986, MW Labs offers a variety of comprehensive skin-care lines for health providers, spas and treatment facilities, retailers, and individual and private-label clients. The company is vertically integrated, in pharmaceutical research, development, testing, manufacturing, and distribution. Over the years, product lines have been extended and improved. The result is carefully combined product ingredients that help to ensure maximum effectiveness with minimal contraindications.
###
Contact: Susan L. Asquith, Ging, LLC
716.400.5547