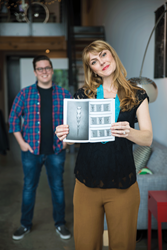 I'm an artist whose palette is her business, and whose canvas is her community.
LOS ANGELES, Calif. (PRWEB) August 09, 2017
Ami Mariscal started Lift Your Business as a way to help millions of small business owners scale up their prosperity and happiness. Today LYB is achieving this by helping business owners and culture creators systemize their marketing & team development using principles, art and science. This is part of a larger vision to help communities like her own beloved Los Angeles produce more fulfilled and prosperous citizens. For every two packages that Lift Your Business sells to small business owners, LYB gives away one pro bono to a non-profit with a shared purpose of creating a happier, more prosperous world for everyone. Starting today, non-profits can visit LiftYourBusiness.com/Impact and signup to get pro bono help with their revenue and culture development systems.
Ami Mariscal, who was recognized as one of America's Up and Coming Photographers in 2007, applies her artistic skills to every aspect of her business. "I'm an artist whose palette is her business, and whose canvas is her community."
Inspired by Matthew Manos, owner of verynice and author of the book "How to Give 1/2 of Your Work Away for Free", Ami is doing this as part of a larger social enterprise movement. Ami Mariscal has been active in the social entrepreneur community in Los Angeles and the United States since 2013. Ami applies permaculture practices to her and her clients' businesses to help develop more resilient profit and increased happiness.
Two additional inspirations to Ami have been Jesse Dylan, who she first met at A Billion + Change, and Aliza Sherman, one of the first social media experts and owner of Mediaegg. Aliza Sherman takes on at least one pro bono project each month to give back to the communities in her sphere of influence.
Today Ami Mariscal's company Lift Your Business launched a new part of its website describing their #ServiceUnites ideals. In addition Ami launched a Thunderclap campaign that will culminate in the dissemination of a social media post spreading this ideal on August 22nd, 2017, Ami's 36th birthday. Here is a link to the Thunderclap.
Ami says, "The next step is to create an umbrella movement around the ideals of #ProsperityForAll and #HappinessForAll". And her plans are in the works. She has been especially motivated after the night of the presidential election in the United States on November 8th, 2016. Ami's ultimate question is "How can we grow the working class' wealth and wellbeing throughout the world?"
Ami is personally offering pro bono strategy sessions to journalists who write about prosperity and happiness, and are looking to expand their audience and get more dream work. Email her at Info(at)LiftYourBusiness(dot)com to take her up on this limited-time offer.