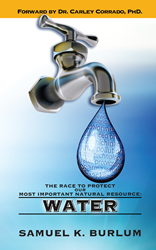 West Milford, New Jersey (PRWEB) August 14, 2017
Water…without it our current society as we know it would come to a screeching halt. In his latest self-written new book, "The Race to Protect Our Most Important Natural Resource: Water," Extreme Energy Solutions, Inc. CEO and President Samuel K. Burlum shares his perspective, supported by in-depth research, facts, and statistics surrounding one of the most contentious environmental debates of our modern time: protecting and conserving clean fresh water sources needed for drinking water.
Burlum reflects on several issues which affect everyone's ability to access clean drinking water sources. He takes time to highlight the catastrophe that plagued Flint, Michigan, including an entire community's compromised ability to have clean drinking water delivered to the tap. Burlum discusses the real culprit behind polluted water sources in Newark, New Jersey, and gives a list of the world's most threatened fresh water sources. Samuel K. Burlum reveals the source of the problem of why these critical drinking water sources became endangered, and how we can prevent such from happening in other places.
The Extreme Energy Solutions, Inc. CEO also shares with readers of "The Race to Protect Our Most Important Natural Resource: Water", many technological options which are available to mitigate water pollution in the home and for commercial situations. Samuel K. Burlum also shares what we as individuals can do to help preserve and conserve water on a daily basis.
"As a leader in the green tech industry, I felt it was our responsibility to provide public awareness and help educate communities about the real concerns that surround our limited supply of clean fresh drinking water," stated Samuel K. Burlum, CEO and President of Extreme Energy Solutions, and now published author.
"It is important that we at Extreme Energy Solutions lead by example on this very issue, as we are strong advocates for preserving our quality of air and water. Our technological solutions were designed to improve the quality of life and decrease our impact on the environment," Burlum continued.
"The book was written with the intent to inform individuals, businesses, companies, non-profit organizations, and public official policy makers of the true temperature and current status of our very limited supply of clean drinking water sources, so they become aware and willing to make decisions resulting in effective actions critical to protecting our most important natural resource."
The 166-page book, "The Race to Protect Our Most Important Natural Resource: Water," written by Samuel K. Burlum, sells for $14.95 for the soft cover version, and $4.99 for the e-book version. Both versions of this book have been made available on Amazon at: https://www.amazon.com/Race-Protect-Important-Natural-Resource/dp/099888720X
Dr. Carley Corrado, PhD, Renewable Energy and Soil Scientist had written the forward where she explains how well researched and readable the book is. She also provided a glowing review based on her experience and in depth knowledge of the subject matter. Dr. Carley Corrado's last assignment was at the University of California Santa Cruz Campus.
Former Ambassador and United Nations Special Envoy Francis Okelo, now retired and current President of the New Rochelle Rotary Club, (New York), also gave a formal review with a favorable report of Burlum's latest book release.
"The Race to Protect Our Most Important Natural Resource: Water," is an investigative view into the most pressing threats against modern society's most precious natural resource; water; and how to mitigate them. This book is NOT about taking shorter showers, and it is NOT about selling you on water filters… It is about knowing the current score related to the very essence of life, and helping you become more aware how you can make a positive impact.
Samuel K. Burlum takes time to examine the current geo-political public policies which were designed to help conserve and protect our very limited clean drinking water sources, and what government, community activists, and advocates are doing about the problem of dwindling clean fresh water supplies, which humans rely on to sustain life.
This book reviews historic series of events by former civilizations and communities that act as lessons learned, as examples of what can occur when we do not approach the subject of protecting and preserving clean drinking water for generations ahead. Within the book, Burlum provides detailed accounts of economic disasters, and the fall of most recent communities and trade because of mismanages and misused clean drinking water supplies. These reports serve as a warning sign of things to come in the not so distant future.
"The Race to Protect Our Most Important Natural Resource: Water," can also be found at Barnes and Nobles: https://www.barnesandnoble.com/w/the-race-to-protect-our-most-important-natural-resource-samuel-k-burlum/1126741736?ean=9780998887203
Other contributors to this book project include: Cover Art- Brand Worx Productions; Layout-Lloyd Arbour; Editor-Lucille Pearce; Assistant Editor-Pamela Macek; and Consultant-Dan Hollis. This book was scheduled for release on July 22, 2017.
"If I had to choose one thing readers of this book remember, it would be that their choices and how they manage their lives as it concerns water usage, preservation, and conservation effects so many lives around them - so choose wisely," concluded Burlum.
The Author, Samuel K. Burlum, is a career entrepreneur, author and investigative reporter. Burlum's area of expertise has been within the green industry, including green technology, green related consumer products, and public policy relating to environmental concerns. Mr. Burlum holds an Associate's Degree in Applied Sciences, having majored in Business Management while attending Berkeley College, Woodland Park, New Jersey. Currently Mr. Burlum is the CEO and President of Extreme Energy Solutions, Inc., a green tech company which brings to the market green, eco-friendly consumer products and emissions reduction technology for the automotive and transportation industry.