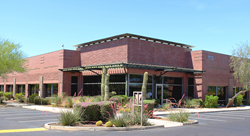 VIP Mortgage purchased and renovated the 46,000 square-foot office building to allow room for growth.
Scottsdale, AZ (PRWEB) August 09, 2017
As part of a major expansion, leading privately-owned mortgage company, VIP Mortgage, is upgrading and relocating its corporate headquarters in Scottsdale, Ariz. to an office that is nearly twice as large as their previous space. VIP Mortgage purchased and renovated the 46,000 square-foot office building to allow room for growth as the company plans to hire several loan officers throughout 2017, expanding their employment and home lending capabilities.
Every aspect of the renovation was deliberate and designed for a collaborative, holacratic work environment. VIP Mortgage's expanded workspace will also introduce new, all-inclusive health and wellness offerings including a fully stocked gym, in-house massage therapy, full kitchen, daily snack and fruit bar, "VIP" lounge area and 10 "huddle rooms," that will take the place of traditional conference rooms. Progressing with emerging technology, VIP employees will enter the building with their smartphones, and receive instant notifications for deliveries and visitors along with scheduling appointments in huddle rooms on iPads outside of each designated room.
The company was founded in 2006 by Jay Barbour who was looking to reshape the mortgage industry. VIP started with just two employees and has grown to a national employee count of over 400 employees across 21 states and counting. "VIP's goal to stand out as the best, not the largest, mortgage lender in the industry and our model to make customers, employees, and partners a top priority, is a proven success," said VIP Mortgage President Jay Barbour.
VIP Mortgage's new headquarters is located at 9221 East Via de Ventura, Scottsdale AZ 85258 in the Calendar Stick Business Park. This puts VIP in an optimal location near growing attractions such as Salt River Fields at Talking Stick, Talking Stick Resort and Casino and OdySea Aquarium. For more information about VIP Mortgage, visit http://www.vipmtginc.com.
###
VIP Mortgage is a full-service mortgage lender committed to restoring the reputation of the housing industry. VIP Mortgage, Inc. does Business in Accordance with Federal Fair Lending Laws. NMLS ID 145502. For state specific licensing, visit http://www.vipmtginc.com/national-licenses/.