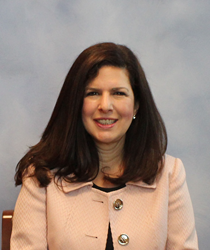 Fairfield, NJ (PRWEB) August 09, 2017
Westwood resident Veronica Ross was recently appointed 1st Vice President and Small Business Banker Team Leader by Kearny Bank. Ross's specific expertise is in small business banking and community outreach.
Having joined Kearny Bank in 2016, Ross has more than 15 years of professional experience in the banking sector. In her new role, she'll focus on leading the Small Business Banking team to grow market share by providing clients with the best products and services, while further enhancing brand promotion efforts through community outreach efforts.
"Veronica is an outstanding leader, a trait that's ideally suited to her new role of coaching branch managers and their local teams toward continued growth," says Linda Hanlon, Senior Vice President and Director of Retail Banking for Kearny Bank. "I'm confident our team of Small Business Bankers will flourish under her direction, to the benefit of all our small business clients."
Ross currently holds memberships in the New Jersey Association of Women Business Owners, and the Greater Pascack Valley and the Hasbrouck Heights chambers of commerce. She is second chair on the board of the Girl Scouts of Northern New Jersey, and is a Eucharistic minister at St. John the Baptist Church, Hillsdale.
About Kearny Bank
Kearny Financial Corp. is the parent company of Kearny Bank, which operates from its administrative headquarters building in Fairfield, NJ. Kearny Bank has supported the communities it serves since 1884. The bank has assets of $4.8 billion and operates 42 full-service banking offices in northern and central New Jersey, and in Brooklyn and Staten Island, New York. Kearny Bank was recently named to Forbes' list of the 50 Most Trustworthy Financial Companies.