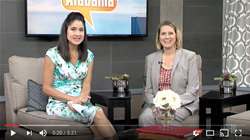 People would rather die than speak up in front of a group.
Birmingham, Alabama (PRWEB) August 10, 2017
Dale Carnegie of Central and Northern Alabama president, Nancy Covert, was recently featured on Talk of Alabama to talk about the importance of being a polished and professional public speaker.
Most Americans have a fear of public speaking. In fact, many will cite a preference for being in the coffin over giving the eulogy. It's a fear that has plagued great business men and women for decades and a skill that can make or break any business professional at any level of an organization.
Dale Carnegie felt that being a successful public speaker wasn't a skill that individuals are born with; it is a trait that has to be developed and nurtured. Developing this skill, Mr. Carnegie felt, was key to any individual being successful in business, from and entry level employee sharing ideas with colleagues to a sales person getting buy in from a customer to a CEO gaining cooperation from his team. Every employee at every level stands to improve his or her career by nurturing this skill.
During a Dale Carnegie Public Speaking course, individuals will work on:
-Reducing nervousness
-Preparing for a presentation
-Knowing your audience
-Identifying what's important to your audience
-Putting together an entire central theme
-Opening your presentation
-Closing your presentation
-Handing difficult questions
-Dealing with a difficult audience
Dale Carnegie Training has 2 formats for Presentations Skills Training upcoming:
Successful Public Speaking: a half day seminar
Birmingham Business Journal
Tuesday, August 22
8:30am - 11:30am
High Impact Presentations: 2 full day program with live coaching
Thursday/Friday
August 24-25
8:00am - 4:00pm
Birmingham
For more information on these or any of Dale Carnegie Central and Northern Alabama's programs, visit http://www.birmingham.dalecarnegie.com. To watch the full Talk of Alabama segment, click here.