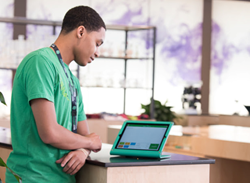 Today's milestone is evidence of the important role we play in the rapid growth of this industry. We are honored to serve the leading cannabis retailers in the U.S. - Ben Curren, CEO, Green Bits
San Jose, CA (PRWEB) August 09, 2017
Green Bits, Inc., the leading retail management platform for the legal cannabis industry, announced today that the company has passed $1.5 billion in annual sales processed through its point-of-sale (POS) system. The company also announced that it completed a $2.2 million growth financing with participation from Casa Verde Capital and several prominent Silicon Valley entrepreneurs. Green Bits will use the proceeds to accelerate sales, customer support and product development as the company expands into new geographic markets, including California, Maryland and Nevada.
Green Bits provides a retail platform built to address the unique needs of cannabis retailers. Green Bits ensures compliant retail operations with real-time, automated updates to state traceability systems and built in controls that adhere to local laws. In addition, the company's platform helps business owners grow revenue and streamline store operations with patient and customer loyalty programs, the widest array of menu offerings, and sophisticated receiving and inventory tools.
According to Arcview Market Research, the North American market for legal cannabis sales was $6.7 billion in 2016, up 30% from the prior year. The market is expected to surpass $20 billion annually by 2021. Green Bits' $1.5 billion in annual sales volume is more than 300% the volume processed one year ago.
"Green Bits set out to address the unique compliance needs of legal cannabis retailers in 2014. Since then, Green Bits has evolved to help retail owners stay compliant, grow revenue and streamline store operations with a comprehensive platform," said Ben Curren, co-founder and Chief Executive Officer of Green Bits. "Today's milestone is evidence of the important role we play in the rapid growth of this industry. We are honored to serve the leading cannabis retailers in the U.S.," added Curren.
"Green Bits has quickly established itself as the leading retail solution for cannabis businesses. We spend a lot of time evaluating platforms for this industry and we felt Green Bits had the most sophisticated, user-friendly, and compliant retail product we had seen. Ben and his team have a track record building great technology companies, and they have demonstrated their ability to extend that knowledge to serve the needs of cannabis retailers. Our mission is to invest in the best companies in this space and Green Bits is a great addition to our portfolio," said Karan Wadhera, Managing Partner of Casa Verde Capital.
"We are thrilled with the investors we assembled. This group brings together world-class product development expertise, industry domain knowledge, and years of experience building successful technology companies," said Curren.
About Green Bits
Green Bits is a retail management platform that helps legal cannabis retailers grow their businesses. Green Bits serves more than 700 cannabis retailers in seven states with more than $1.5 billion in annual sales processed through the Green Bits point-of-sale. The company was founded in 2014 and has offices in San Jose, California, and Portland, Oregon.
About Casa Verde Capital
Casa Verde Capital makes early stage investments in innovative businesses in the fast-growing cannabis industry and focuses on ancillary businesses that "do not touch the plant." This approach allows the firm to focus it's efforts on businesses that can scale in an uncertain regulatory environment, positioning themselves to be the preeminent venture partner to early stage companies that are setting the bar high for quality and excellence with respect to building the infrastructure tools and services the cannabis industry needs.