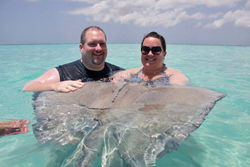 Coral Springs, Fla. (PRWEB) August 09, 2017
During the past 3 years, Cruise Planners has seen a 66% increase in franchisees under 40 joining the growing network. Cruise Planners, an American Express Travel representative, is the nation's largest network of home-based travel agents who customize and plan a variety of vacations for all types of travelers.
As a profession, travel agents are making a resurgence with the number of travelers using a travel agent reaching an six year high in 2016 according to MMGY Global's Portrait of the American Traveler. One factor could be Millennials are traveling the world more and are the age group most likely to use travel agents. Also, anyone who has started a travel search online knows how overwhelming it can be to experience information overload during an internet search. Because booking travel without support can be overwhelming, travel agents show their value by offering professional guidance, the best value offers and insider information for booking a vacation.
"It's been only four years since I drank the Cruise Planners 'green Kool-Aid' and it has been the best decision of my life…besides marrying my husband," said Lori Osgood, 33, a Cruise Planners franchise owner based in Jacksonville, Fla. "Never in my wildest dreams did I expect to be this successful so quickly."
Osgood is one of more than 1,800 Cruise Planners franchise owners who enjoys the benefits of working from home while selling vacations. As a franchise owner she is able to operate her independent franchise, while being her own boss, one of the many career perks important to young professionals.
"With Cruise Planners, I am a part of a family, have built some amazing friendships and have a fantastic support system from the Home Office Team and other franchise owners," she said. "When I started my original career, I figured I could travel the world when I retire, instead I have turned my passion for travel into my career and we get to travel now rather than later."
Cruise Planners franchise owner Lori Osgood, right, of Jacksonville, Fla. is pictured with her husband Richard Osgood at Stingray City in Grand Cayman, Cayman Islands.
By focusing on industry relationships, she was able to propel her business and credits the growth of her franchise to the Cruise Planners training program and ongoing business development support she receives. As a budding entrepreneur, she regularly collaborates with other franchise owners in her area and proactively reaches out to the travel partners to create opportunities to network and learn from each other.
"These exclusive Cruise Planners events have been vital in the growth of my franchise," she said. "Since being a successful travel agent requires me to travel and experience destinations, it's important that I am able to work anywhere in the world and the Cruise Planners technology allows me to do that."
Osgood works closely with her business development training coach and has set goals for the coming year as she continues to push past personal milestones in her travel career. As a relatively young travel agent she specializes in family vacations, honeymoons, destination weddings and more.
"You definitely get out what you put in and I went all in as a franchise owner," she said. "I will share with anyone who will listen about how much I love being a travel professional with Cruise Planners and selling the world."
---------------
About Cruise Planners, an American Express Travel Representative
Cruise Planners, an American Express Travel Representative, is the nation's largest home-based travel agent franchise network in the travel industry. Cruise Planners operates a network of more than 1,800 franchise owners who independently book amazing vacation and travel experiences for their clients. The Florida-based Home Office Team positions a nation-wide network of franchise owners for success by providing innovative marketing, booking and technology tools, as well as professional development and hands-on training with the industry's top executives. The company continues to be lauded and has been named the No.1 travel franchise by Entrepreneur magazine for 14 consecutive years. Cruise Planners was recently featured in Entrepreneur as one of the top 30 franchise innovators in technology, has been consistently named as one of the Top Women-Owned Businesses by the South Florida Business Journal, is on the Inc. 5000 list as one of the fastest-growing private companies in America, has been ranked as the #1 travel franchise by Franchise Business Review for 6 years in a row, and was recognized as one of the Top Workplaces by the Sun Sentinel since it started ranking companies.
Headquartered in Coral Springs, Fla. with more than 22 years of experience, Cruise Planners has achieved top producer status with every major cruise line. Accolades include numerous Magellan Awards from Travel Weekly, American Express Travel Representative Excellence Award for 13 consecutive years (2004-2016), American Express Agency of the Year (2010), Royal Caribbean International Chairman's Award (2015), Royal Caribbean International President's Award for Overall Achievement (2012 and 2014), Royal Caribbean International Home-Based Partner of the Year (2007-2013), Norwegian Cruise Line Elite Agency of the Year (2016), Norwegian Cruise Line Franchise Agency of the Year (2011-2015), Celebrity Cruises Home-Based Partner of the Year (2016), Celebrity Cruises Field Sales Account of the Year (2015), Celebrity Cruises Home-Based Account of the Year (2013-2014) and Celebrity Cruises Southeast Region Travel Agent Partner of the Year (2010), Travel Impressions Best of the Best Globe Award (2008-2016), Sandals Top Host – Worldwide, Globus Family of Brands Premier Agency Partner (2009-2016), Platinum Circle Member with Viking River Cruises (2009-2016), Uniworld Boutique River Cruise Collection Top Producer (2008-2016) and Regent Seven Seas Cruises Top Producer. Cruise Planners is one of the Top 50 franchises for Veterans according to GI magazine, the Top Franchise Brand for Veterans according to Franchise Business Review, has been named one of the Top 25 franchises for African-Americans by Black Enterprise magazine and is a member of the International Gay & Lesbian Travel Association. For more information, visit http://www.cruiseplanners.com.
Stay in Touch: Media can stay up-to-date with Cruise Planners by visiting our media room, following us on Twitter @Cruisitude or on Facebook. For additional information or to make reservations, vacationers should locate a travel advisor near them. For those interested in becoming a franchise owner, please visit the Cruise Planners franchise website.
# # #
Media Contact:
Caitlin Gardner, Director of Public Relations
Cruise Planners, an American Express Travel Representative
CGardner(at)cruiseplanners(dot)com
954-344-8060