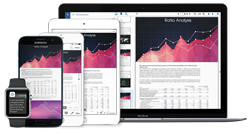 OnBoard sets a new standard for what is already the world's most advanced board meeting solution.
Lafayette, IN (PRWEB) August 10, 2017
Passageways today announced it released two significant enhancements to its OnBoard board portal platform: Customer Scheduled Upgrades and Dashboards. OnBoard is a third-generation board meeting solution explicitly engineered to improve meeting outcomes for organizations of all sizes.
An industry first, Customer Scheduled Upgrades offers administrators the choice of how and when they deploy new OnBoard releases across their organization. A groundbreaking enhancement for Cloud Solutions, Scheduled Upgrades removes any concern that deploying the latest OnBoard features and capabilities will interrupt board work. Providing more control and choice to customers, Customer Scheduled Upgrades was designed to ensure that board meeting preparation always comes first.
Along with Scheduled Upgrades, OnBoard's new Dashboard provides a personalized homepage for every organization. Administrators can leverage a set of modules to create a tailored home for their organization, guaranteeing that when directors login to OnBoard they are presented with the most pertinent board information with one-touch access to supporting materials.
"OnBoard sets a new standard for what is already the world's most advanced board meeting solution," said David Alder, Passageways director of product. "We know board meetings are a high-stakes responsibility, and any additional anxiety is unwelcome. Now, when an important meeting is imminent, organizations can shift-forward the roll-out of new capabilities, so they can simply focus on the meeting."
"OnBoard's cloud-first engineering opens up possibilities that were unheard of for legacy meeting solution," said Paroon Chadha, Passageways Co-Founder and CEO. "The agility and collaboration benefits of the cloud empowered us to develop these new capabilities, delivering increased value and control to our customers. Our goal remains to give our customers the choices they deserve."
Passageways also announced this release will bring additional enhancements including two-factor authentication, security reporting, additional functionality allowing votes to be taken with eSignature, and additional calendar integrations. The release went live on August 5, 2017.