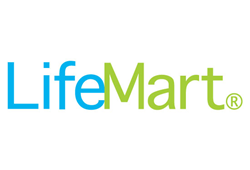 With our expansion into associations, we look forward to bringing their members huge savings on major brands and everyday needs
SHELTON, CT (PRWEB) August 09, 2017
LifeMart, the premium discount platform of LifeCare, Inc., will be featured at the American Society of Association Executives (ASAE) Annual Meeting & Exposition in Toronto from August 12th through the 15th.
LifeMart's presence highlights their platform expansion to the association market, as a valuable benefit to acquire and retain members. Over the past 10 years, LifeMart has been the leading solution for companies nationwide seeking to provide their employees with unique deep discounts and special deals on premium products and services. Now, LifeMart's answering the demand of associations, enabling them to take advantage of the discount platform as well.
With exclusive discounts and offers, a customizable client-branded interface, and superior support, LifeMart is the online shopping choice for employees of over 60,000 companies and government agencies. The fantastic savings offered to LifeMart members are available across all categories including: travel, entertainment, financial services, health and wellness services, automotive, child care and everyday shopping.
"Our LifeMart mission is to provide exceptional value to our clients and members" says David Lynch, Executive Vice President of LifeMart. "With our expansion into associations, we look forward to bringing their members huge savings on major brands and everyday needs."
The ASAE is the leading global organization for association management, providing education, best practices, advocacy, and certification to more than 35,000 members. Its annual meeting and exposition is an opportunity for members to see new services like LifeMart that can benefit their members.
LifeMart will be showcased in Booth 527 at the show. Attendees will be able to talk with representatives from LifeMart and experience the discount platform firsthand.
About LifeCare
LifeCare provides employer-sponsored work-life benefits to 61,000 clients, including Fortune 500 companies and large branches of the federal government, representing 100 million members nationwide. In addition to Work-Life solutions, LifeCare also provides a full suite of premium solutions to address today's most critical workplace challenges. LifeCare also operates LifeMart, an online discount shopping website that provides real savings on everyday products and needs. LifeCare is headquartered in Shelton, CT.