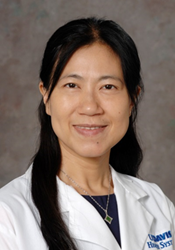 Durham, NC (PRWEB) August 09, 2017
Each year in the United States more than 300,000 people are hospitalized for hip fractures. Almost half never recover well enough to live an independent lifestyle and, even worse, the one-year mortality rate is high, ranging from 12 percent to 37 percent.
A new discovery by doctors at the University of California Davis Medical Center (Sacramento) and Second Xiangya Hospital of the Central-South University (Hunan, China) might increase these patients' chance for a speedy recovery. In a study published in STEM CELLS Translational Medicine, they demonstrate how mesenchymal stem cells (MSCs) engineered to over-express basic fibroblast growth factor (bFGF) accelerated the healing of fractures in mice.
"There are a handful of methods to chemically enhance the fracture healing process, but they have serious limitations," said study leader Wei Yao, M.D., associate director of the UC Davis Center for Musculoskeletal Health. "Side effects range from inflammation and abnormal bone formation to cancer. Thus, there is still an unmet medical need to treat fractures and shorten the time for bone healing."
bFGF is among a family of growth factors whose members are involved in everything from the formation of new blood vessels and wound healing to embryonic development and various endocrine signaling pathways. Previous studies demonstrate that bFGF injection leads to a profound regeneration of bone. However, prolonged exposure to bFGF ups the risk for cancer, inflammation and severe anemia
"This led us to wonder if a combination of gene and cell therapies would work together to accelerate fracture repair and possibly be more effective than individual growth factors given systemically," said Dr. Yao.
To test their hypothesis, they collected MSCs from the adipose (fat) tissue of mice, then the MSCs were engineered to make more of the growth factor bFGF. They then generated a fracture in the right femur of each animal and injected the mouse's genetic background-matched MSCbFGF back into it next to the site of the fracture. "Because MSCs given intravenously are likely to be trapped in the lung, we used intramuscular injection to bypass the risk of lung embolism," Dr. Yao said.
The mice were tested at days 7, 14, 21 and 35 post-fracture for various aspects of bone repair. Results indicated that the MSCbFGF led to an increased production of growth factors that, in turn, accelerated fracture repair by stimulating blood vessel growth and differentiation of both endogenous and exogenous MSCs into osteoblasts, which are the cells that form new bone.
"We concluded that transplantation of MSCs is more likely to enhance bone and cartilage regeneration when these cells were engineered to express growth factors — a finding that supports the use of MSCs as 'factories' to more safely produce a sustained release of low levels of bFGF over a controlled period for injury repair," Dr. Yao said.
Our findings also indicate that the potential therapeutic window for effective MSCbFGF use is approximately one to two weeks," she added. "This novel treatment may reduce the time required for fracture healing."
"Due to the aging of the population, the worldwide incidence of hip fractures is expected to increase by at least 240 percent by 2050," said Anthony Atala, M.D., Editor-in-Chief of STEM CELLS Translational Medicine and director of the Wake Forest Institute for Regenerative Medicine. "This research suggests a promising approach to improve treatment options and increase the likelihood of a successful recovery."
###
The full article, "Acceleration of fracture healing by overexpression of bFGF in the mesenchymal stromal cells," can be accessed at: http://www.stemcellstm.com.
About STEM CELLS Translational Medicine: STEM CELLS Translational Medicine (SCTM), published by AlphaMed Press, is a monthly peer-reviewed publication dedicated to significantly advancing the clinical utilization of stem cell molecular and cellular biology. By bridging stem cell research and clinical trials, SCTM will help move applications of these critical investigations closer to accepted best practices.
About AlphaMed Press: Established in 1983, AlphaMed Press with offices in Durham, NC, San Francisco, CA, and Belfast, Northern Ireland, publishes two other internationally renowned peer-reviewed journals: STEM CELLS® (http://www.StemCells.com), celebrating its 35th year, is the world's first journal devoted to this fast paced field of research. The Oncologist® (http://www.TheOncologist.com), also a monthly peer-reviewed publication, entering its 22nd year, is devoted to community and hospital-based oncologists and physicians entrusted with cancer patient care. All three journals are premier periodicals with globally recognized editorial boards dedicated to advancing knowledge and education in their focused disciplines.
About Wiley: Wiley, a global company, helps people and organizations develop the skills and knowledge they need to succeed. Our online scientific, technical, medical and scholarly journals, combined with our digital learning, assessment and certification solutions, help universities, learned societies, businesses, governments and individuals increase the academic and professional impact of their work. For more than 200 years, we have delivered consistent performance to our stakeholders. The company's website can be accessed at http://www.wiley.com.