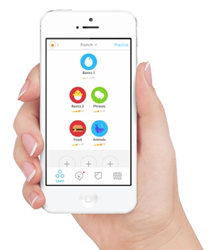 WASHINGTON, DC & PITTSBURGH, PA (PRWEB) August 16, 2017
Pearson and Duolingo announced a partnership to provide college and university students with a fun, simple, and effective way to learn foreign languages. Beginning this fall, institutions and educators can offer their students a personalized language learning experience featuring high-quality content developed by Pearson, and delivered to students using Duolingo's award-winning platform. Duolingo is the most downloaded education app worldwide, with more than 200 million users.
"Through our partnership with Duolingo, we will combine complementary expertise to increase access to highly personalized and mobile language learning experiences. Our shared goal is to help improve students' academic performance while preparing them for today's global workforce and opportunities that require multilingual skills," said Paul Corey, managing director, higher education courseware, Pearson.
Pearson and Duolingo will produce courses in Duolingo that are aligned with the content in Pearson's popular e-Textbooks and print materials. Spanish, French, Italian, and German courses will be supported this fall. Students will be able to access these specialized courses in Duolingo on iOS, Android, and the web after purchasing their course materials.
"Our users love the way Duolingo makes it easy to fit language learning into everyday life in a way that is effective and fun," said Bob Meese, vice president of business at Duolingo. "Duolingo is already used in over 300,000 classrooms worldwide. We'll greatly increase this usage by aligning courses in Duolingo with popular course materials from Pearson. With the curriculum expertise of Pearson and Duolingo's gamified teaching methods, we hope this partnership sets a new standard for the future of higher education."
"Duolingo is a fantastic out of class supplement to any foreign language curriculum. It engages students in a variety of language practice modalities and supports their language learning progress," said Anna Szawara, lecturer, University of Illinois at Chicago.
###
About Pearson
Pearson is the world's learning company, with expertise in educational courseware and assessment, and a range of teaching and learning services powered by technology. Our mission is to help people make progress through access to better learning. We believe that learning opens up opportunities, creating fulfilling careers and better lives. For more, visit http://www.pearson.com.
About Duolingo
Duolingo is the most popular language-learning platform and the most downloaded education app in the world, with more than 200 million users. The company's mission is to make education free, fun and accessible to all. Duolingo is designed to feel like a game and scientifically proven to be effective. In addition to its core platform, the company created the Duolingo English Test (DET), an affordable and convenient language certification option that is accepted by over 60 universities. In 2016, Duolingo expanded beyond language learning with Tinycards, a reinvention of flashcards designed to make studying fun. The company has raised more than $83.3 million in venture capital from investors including Google Capital, Kleiner Perkins Caufield Byers, Union Square Ventures, New Enterprise Associates, Ashton Kutcher and Tim Ferriss.