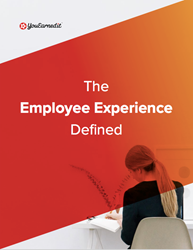 Austin, TX (PRWEB) August 09, 2017
YouEarnedIt, the leading HR SaaS company that improves bottom-line performance metrics by enhancing the employee experience, today released the results from a new national survey which reveals that the majority of companies are not providing what employees want and need to have a positive employee experience.
The report, The Employee Experience Defined, is a first-of-its-kind analysis on the key characteristics of the employee experience. The research found that the employee experience is comprised of four key pillars: connection, meaning, impact, and appreciation.

Connection: Feeling connected to your manager, colleagues, company, and community.
Meaning: Knowing your company, and the work you do, has meaning and purpose.
Impact: Knowing the work you do impacts your colleagues and company for the better.
Appreciation: Feeling acknowledged and appreciated for your contributions.
The research looked at motivations and behaviors around what encompasses a positive employee experience. The responses come from more than 750 employees at over 600 companies ranging from specialists to executives across more than 30 industries including finance, education, IT, healthcare, technology, and manufacturing.
Some key findings from The Employee Experience Defined include:
Connection matters: 93 percent of employees say it's important to them to feel connected to managers, colleagues, their company, and the community.
Employees don't feel their work has a larger purpose: More than 1 out of every 2 employees (52 percent) feel their companies don't value meaning enough even though 93 percent of employees want to know their work contributes to something bigger than themselves.
More than 9 out of 10 want to know their work makes an impact: 94 percent of employees are eager to know the work they do impacts their colleagues and their company for the better, but only half of respondents believe their company considers it important.
Employees want to feel acknowledged and appreciated for their contributions: 96 percent of employees rank appreciation as important to their employee experience.
Culture is a must-have: 49 percent of respondents said company culture influences their employee experience more than their physical environment (22 percent) or the technology and tools they use to do their job (29 percent).
"To build a high-performing team that delivers results, it's crucial that companies ensure the key facets of the employee experience are prioritized and well executed in day-to-day interactions with employees," said Autumn Manning, co-founder and CEO of YouEarnedIt. "Ensuring your company has built a strong employee experience - more connection to peers and leadership, an understanding of the bigger purpose and goals of the company, the ability to have a greater impact, and receiving appreciation and feedback on your work - is a much quicker and more sustainable way to fuel results rather than traditional methods that have been implemented in the past."
In addition to validating the four pillars of the employee experience, the research also revealed only 1 in 10 respondents rated their employee experience a 10. While recent estimates from Bersin Associates puts business spend on engagement programs at $1.53 billion a year, despite this investment, Gallup's 2017 State of the American Workplace shows 70 percent of employees are not engaged. With this in mind, companies need to better understand what elements will truly have an impact on the employee experience.
"We've found that employee happiness doesn't come from one-off engagement programs or meaningless gifts and perks; it's day-to-day interactions and activities that will lead companies to the engagement results they are looking for," says Kim Dawson, Director of Employee Experience at YouEarnedIt. "Today's competitive talent market means businesses have to put people first and the four pillars of the employee experience are the only way to create a long-term impact."
To learn more about The Employee Experience Defined, visit YouEarnedIt to download and read the full report.
About YouEarnedIt
YouEarnedIt is the employee experience platform powered by the science of motivation and the mission of improving the lives of employees everywhere, one company at a time. Founded in 2013, YouEarnedIt grows company culture and improves bottom-line performance metrics through its robust engagement platform that delivers recognition, rewards, incentives, and team insights. Named to Entrepreneur Magazine's list of Best Company Cultures in 2017, the Austin-based SaaS company and its technology platform are built on the four pillars of employee experience: connection, meaning, impact and appreciation. To request a demo, visit http://www.youearnedit.com/demo.