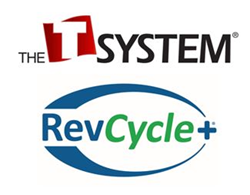 Dallas, TX (PRWEB) August 09, 2017
T-System, Inc., a leading provider of healthcare IT solutions for episodic and emergency care, today announced a partnership with athenahealth, Inc. through athenahealth's 'More Disruption Please' (MDP) program. As part of the athenahealth® Marketplace, this newly integrated application, named T-System RevCycle+®, is now available to athenahealth's growing network of more than 100,000 healthcare providers for charge capture and coding to help recognize the revenue earned based on the actual care provided.
"T-System RevCycle+ delivers a valuable service through accurately accounting for the entire care process, from once a patient presents to when they are dispositioned, to increase accurate reimbursement," said Bradley Cordes, T-System Executive Vice President, General Manager, RevCycle+. "Charge capture and coding present unique challenges to outpatient environments, particularly in light of ever-increasing regulations. RevCycle+ combines intelligent coding technology with expert services for a solution that improves quality and compliance, resulting in more accurate coding and improved financial outcomes."
athenahealth is a network-enabled, results-oriented services company that offers medical record, revenue cycle, patient engagement, care coordination, and population health services for hospital and ambulatory clients. The company's vision is to build a national health information backbone to help make healthcare work as it should. As an MDP partner, T-System joins a network of like-minded healthcare professionals who are looking to disrupt established approaches in healthcare that simply aren't working, aren't good enough, or aren't advancing the industry and help providers thrive in the face of industry change.
To learn more about T-System's new integrated application, please visit the T-System RevCycle+ product listing page on the Marketplace.
About T-System
T-System is a healthcare IT company that advances care delivery and financial outcomes for episodic care. Specializing in emergency department documentation since 1996, T-System has since expanded its focus to include the development of innovative solutions for the rapidly expanding episode-based care market, including hospital-based emergency departments (EDs), freestanding emergency centers and urgent care centers. Through clinically-driven services and documentation solutions as well as charge capture and coding solutions, T-System solves clinical, financial and operational challenges for our clients. About 40 percent of the nation's hospital-based EDs, freestanding emergency centers and urgent care centers use T-System to improve the clinical encounter, including the documentation of the patient visit as well as the downstream outcomes related to that event. For additional information about T-System, please visit http://www.tsystem.com.
T-System Media Contact:
Allison Klingsick
Allison + Partners for T-System
903-316-4070
allison.klingsick(at)allisonpr.com