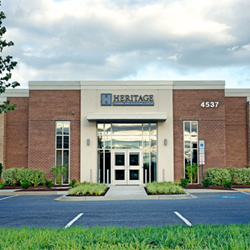 Defense Is Personal
Frederick, MD (PRWEB) August 09, 2017
Heritage Training and Shooting Center is announcing their added service benefiting the ongoing training that is required for Security Personnel. In addition to the option of renting a portion of their state-of-the-art facilities, they offer customizable programs, privacy, and confidentiality along with flexible hours.
Over the past two years Heritage has found that there is a need for quality indoor ranges that offer private booths, an air cleaning circulation system and high-tech Retrieval Systems along with soundproofing materials to aid in the additional training that is required for these types of positions.
Classrooms that are equipped with cutting edge technology and conference style seating that allows instructors to easily share content are also available.
Two shooting simulation labs are also at their location that immerse students in a high-definition, augmented reality where remedial training in the course of fire can be practiced using their TI Simulators.
Hands-on training and Instruction is also available if needed from experienced instructors who have backgrounds in military, armed forces, law enforcement and other related industries.
For additional information on this service offering, please email Lcarpenter(at)heritagetrainingcenter(dot)com or call 240-341-4006.
Heritage Training and Shooting Center is located at 4537 Metropolitan Court in Frederick, Maryland. With state-of-the art shooting ranges, technologically advanced classrooms, TI Simulator, a firearms retail store, and rental center. Heritage has everything you need to meet your personal protection goals. For more information, visit their website: http://www.heritagetrainingcenter.com.
"Defense is Personal"