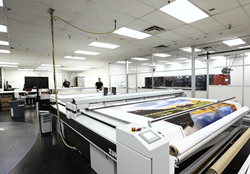 The new high-tech printers and fabric finishing equipment The Trade Group recently purchased enhance quality and expedite processes for creating fabric graphics, trade show displays, banners, hanging signs, retail displays, commercial graphics and more.
Dallas, Texas (PRWEB) August 10, 2017
When you ask The Trade Group's Graphics Production Manager, Bryan Beamon, about all of the new equipment running in his production department these days, he sounds like a kid in a candy store.
Beamon is excited – and for good reason. The new high-tech printers and fabric finishing equipment The Trade Group recently purchased enhance quality and expedite processes for creating fabric graphics, trade show displays, banners, hanging signs, retail displays, commercial graphics and more.
Upgraded VUTEk printer produces higher quality images and seamless, fabric backdrops:
One of the most versatile pieces of equipment the production team has at its disposal is the VUTEk GS Series 3250X Pro Grand Format UV Printer.
"We upgraded from a VUTEk QS model to the GS 3250, because it allows us to print on just about any type of material up to 126.5" wide and 2" deep. This is a huge step up from QS model, which can print on materials up to 80" wide," Beamon says.
One of the key benefits of the expanded width capacity is the ability to print large, seamless graphics, banners and murals. According to Beamon, "With the new printer, we can produce seamless 10-ft high backdrops of virtually any length. The manufacturer also replaced the mercury vapor lamps with environmentally friendly LED UV curing lamps, which produce minimal heat and require less energy to operate."
The upgraded printer also allows Beamon's team to print higher quality images, thanks to the technological advances not available in the previous VUTEk model.
As Beamon explains, "The new printer comes with Ultradrop technology, which enables us to print finer drops and produce higher quality images. It can print white and spot white like the previous printer, but it also comes with a clear gloss channel, which can be used to print subtle, clear logos and images."
Increased demand for fabric graphics prompted the purchase of advanced printing and fabric finishing equipment:
"Adding production capabilities related to fabric has been a natural progression for The Trade Group. Fabric is so versatile, because you can do so much more to fabric than you can with vinyl and rigid materials. Plus, our clients love the fact that fabric is lightweight, compact and easy to pack, ship and store. We've even launched a line of portable trade show display kits that utilize fabric graphics only," Beamon says.
As the demand for fabric graphics and displays continues to grow, the production department needs to keep pace. Adding new technology and equipment to manage fabric based projects helps ensure the production department stays on schedule. The Trade Group's arsenal now includes:
EFI FabriVU 340 – 126" Grand Format Dye Sublimation Printer
Along with the ability to print on fabric up to 126" in width, the FabriVU 340 can print directly onto fabric or via paper transfer. Beamon likes the fact that the printer offers this versatility, because there are advantages to printing both ways.
"We mainly use the paper transfer method, because you can get sharper images. Unless the fabric has been pre-treated, wicking of inks can occur when you print directly to fabric, so to avoid that issue, it's better to use the paper transfer method," Beamon says.
There are some instances, however, where direct to fabric printing makes more sense. As Beamon explains, "With flag material and sheer fabrics, direct to fabric is a better option, because you want the ink to blow-through so you can see the print on both sides."
The FabriVU 340 uses water-based, dispersed ink, which provides a higher color gamut and more vibrant colors than were available in the past. Water-based inks are also very environmentally friendly.
Klieverik GTC 3500 Dye-Sublimation Heat Transfer Unit
Whether printing on paper or fabric, the material needs to be either heat set or dye sublimated. "This process involves heat, pressure and time, and that's what the heat press does. Fabric runs over the heat drum, where the ink transforms into gas and ultimately becomes part of the fabric," says Beamon.
The Trade Group chose the Klieverik GTC 3500, because it has the largest drum size available at 20". The larger size offers more throughput, which will allow the production team to handle growing volumes without skipping a beat.
Zund G3 3XO 3200 Digital Cutting System
The Zund digital cutting system is an upgrade to the previous multi-cam CNC machine used in the production department. The new machine is faster and has an intelligent camera with edge detection.
According to Beamon, "The Zund G3 3XO 3200 comes with a 10-ft x 20-ft belt fed cutter. You can load a roll of 126" banner material or fabric onto the backend, and the machine will auto-feed and cut the entire roll, as it reads the digital cutting marks provided."
Another fast and versatile machine, the Zund has through-cut and kiss-cut capabilities and handles just about any material, including foam core, leather, felt and vinyl. Its driven rotary tool also cuts fabric such as canvas, netting, awning material, banner material and more.
Matic Cronos Automate Sewing Machine
The expansion of fabric projects necessitated the expansion of fabric finishing tools. This machine's main function is to easily marry strapping (a reinforcing fabric), Velcro or a keder to the edge of fabric.
The Matic Cronos is equipped with a belt and table, forward, reverse and hands-free modes and a spool of strapping, PVC edging or Velcro, depending on the application. The machine also makes it more cost-effective to produce SEG fabric graphics in-house.
"While SEG originated as an acronym for silicone edge graphics, most companies have replaced silicone keders with PVC, because it's more rigid and easier to handle. When sewn to the edge of fabric, the PVC keders insert cleanly into the grooves in fabric framing systems – pulling the fabric tight," Beamon says.
JUKI MO-6700 6-thread Serger Overlock Stitch Sewing Machine
The production team uses the Juki 6-thread serger sewing machine for strong, reinforced stitching needs. The serger can stitch through multiple layers of material and is ideal for finishing the edge of a table drape or creating the strong binding needed for stitching together multiple layers of fabric used in hanging signs.
The JUKI serger also comes with a blade cutter that trims excess fabric as it is fed through the machine for stitching. This produces a perfectly straight finished edge.
JUKI DNU-1541 Single Needle Walking Foot Lockstitch Sewing Machine
"The JUKI DNU-1541 is the workhorse sewing machine we use for the other types of free-form sewing we do. Tension structures and case wraps for example. This machine is ideal for those projects, stitching heavy materials, as well as sewing on zippers and any custom tailoring we need to do," explains Beamon.
They've got a machine for that:
The Trade Group is a one-stop shop for printing, production and fabric finishing needs, and their team has the expertise and technology to meet any trade show, live event, commercial graphics and retail merchandising needs. Here is a video showcasing their new, state-of-the-art equipment.
ABOUT THE TRADE GROUP
The Trade Group is a full-service, award-winning provider of products and services for trade shows, corporate events, retail environments and an endless array of face-to-face experiences. The organization helps clients share their unique stories through a comprehensive suite of solutions that includes: exhibit design and fabrication, graphic design and production, exhibit management, digital applications, video production, exhibit accessories, strategic marketing and more.