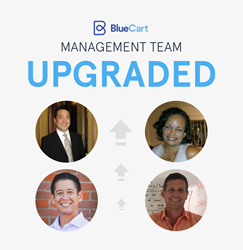 We have been blessed with extraordinary people who have done whatever it took to make BlueCart the industry leader we are today. The addition of a top tier leadership team represents the first step towards providing support to our outstanding team.
Mountain View, CA (PRWEB) August 10, 2017
Now having grown to over 32,000 businesses on the platform, BlueCart is proud to introduce four new members to its management team. To date, BlueCart has attained majority of its market share without a formal process surrounding sales and growth. The new leadership teams includes Bill Mallek as VP of Sales (from Salesforce and Careerbuilder), Kris McKee as Product Manager (from Jumia), Glenn Yamasaki as Head of Talent and Human Resources (from Recruiter.net), and Daniel Lewis as Sales Development Representative (SDR) Manager (from ClearCare Online). This group will be responsible for accelerating the company's sales and product development goals.
Bill Mallek joins BlueCart with over 14 years of SaaS sales leadership experience. No stranger to success, Mallek spent over seven years with Careerbuilder.com as a director and a VP of sales, and over six years with Talent Objects, SuccessFactors/SAP and Salesforce Marketing Cloud. Mallek will be focusing on building and scaling BlueCart's sales function.
Mallek remarked, "I think the opportunity that BlueCart has is tremendous. With an industry that is still pushing paper and excel spreadsheets, the need for change is evident. BlueCart is revolutionizing the way these companies do business by providing the industry with a platform that streamlines and modernizes the wholesale procurement process for buyers and sellers. It's a very exciting time."
Kris McKee comes to BlueCart from Jumia.com, Africa's largest e-commerce superstore, where she held the Head of Operations and Warehouse position. McKee brings ten years of experience with her, and an MBA from Columbia University.
"The BlueCart team is an amazing group of hard-working, fun-loving, foodies and I'm excited to be a part of the team that will make BlueCart an all-service platform for the hospitality industry," says McKee.
Glenn Yamasaki has a diverse background in recruiting, training, marketing, sales and leadership. From a recruiting standpoint, Yamasaki has helped tech startups in the Silicon Valley find engineering talent at all levels. In addition to recruiting, Yamasaki has experience in marketing and served in multiple roles for agencies serving tech, hospitality, and in business development.
Moving forward, Yamasaki states, "It's critical as we grow to bring in overachievers who embrace the dynamic personality of our team and our culture. I couldn't be more excited to help expand our family of stunning colleagues."
Daniel Lewis has a 15 year sales career helping emerging companies and technology become the dominant players in their space. Most recently, Lewis was the SDR and Sales Operations Manager at ClearCare Online, a SaaS Platform for Home Care, and was a part of the team that made ClearCare a profitable company after the private acquisition by Battery Ventures.
Lewis remarks, "BlueCart is uniting restaurants and vendors. It's both easy to use and efficient; I am excited to be part of this revolutionary journey."
The decision to bring in top talent was due to a rapidly increasing customer base and a need to expand the sales team. Since BlueCart has found itself growing at an expeditious pace, hiring a substantial leadership team was a paramount decision.
Konstantin Zvereff, BlueCart's CEO, comments, "To date, we have been blessed with extraordinary people who have done whatever it took to make BlueCart the industry leader we are today. The addition of a top tier leadership team represents the first step towards providing support to our team of outstanding colleagues."
Co-founder and CTO, Jag Bansal, added, "We are extremely excited to have the next wave of leaders join our management team and help spearhead the growth of our company. Their past experience and leadership qualities make them ideal candidates to help BlueCart achieve our vision of ubiquity in the Hospitality industry."
Over the next 12 months, Mallek et al. will focus on changing the outdated patterns of business BlueCart customers use today. Mallek says, "I think our biggest challenge right now is comfort. We are selling into an industry that is used to doing things the same way for a very long time, so a big part of our job as a sales team is overcoming that through education, agility, patience, and skill."
The rapidly-growing company recently raised $10 million in May for Series B, bringing their total funding to $17 million. BlueCart's SaaS product launched in 2014 offering a mobile platform to the hospitality industry to modernize and improve the wholesale procurement process between restaurants and distributors. BlueCart is Venture Capital funded and has offices in Washington DC, New York, San Francisco, and Chicago with over 32,000 businesses on its platform.