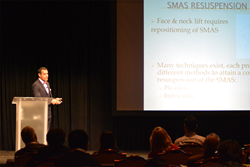 This technique only requires local anesthesia and an oral sedative, and produces smooth, natural, and long-lasting results
Newport Beach, CA (PRWEB) August 09, 2017
The Aesthetics Show, held annually in July, is a multidisciplinary medical education meeting centered on the field of aesthetic medicine and the many advances in it. At the Aesthetics Show, participants learn about new procedures, products, and technologies from a group of the top physicians in the aesthetic industry, including Dr. Sadati.
Dr. Sadati presented "High Definition Facelift Using Local Anesthesia and Twilight Sedation - A Review of 3000 Cases" at the Aesthetics Show. This unique presentation focused on Dr. Sadati's specially developed Double-C Plication technique. As an expert in facial and plastic reconstructive surgery, Dr. Sadati developed this natural facelift technique in response to patients' requests to look naturally younger. He found that the traditional facelift technique, an invasive surgical procedure, often left patients looking "tight" and no longer "natural," looking as if they had undergone a cosmetic procedure. In addition, it requires the use of general anesthesia and has a longer recovery period.
The natural facelift technique pioneered by Dr. Sadati eliminates these problems. As he explained in his presentation at the Aesthetics Show, "through this specially developed technique, I apply uniform tension to the patient's entire face which gently lifts skin and prevents bunching along the hairline. This technique only requires local anesthesia and an oral sedative, and produces smooth, natural, and long-lasting results." Dr. Sadati meets with each patient individually to assess their unique needs. He creates a plan for each patient, with the results being a youthful and natural look for the patient. "The Double-C Plication, or as I call it the 'Natural Facelift,' is an innovative technique that offers patients the youthful look they want, but without the issues that come with traditional facelift techniques."
The Double-C Plication is considered a quick procedure, taking approximately two hours to complete. Afterward, there is minimal downtime for the patient and a quick recovery period, with most patients returning to their normal activities within seven to ten days. Aside from Dr. Sadati's expertly crafted procedure, patients enjoy minimal downtime thanks to his use of local anesthesia and twilight sedation over the traditional general anesthesia.
Using this technique, Dr. Sadati has performed over 3,000 facelifts. As a result, his patients look more youthful, with the procedure taking 10-15 years off of their face, and up to 20-30 years off the neck. His patients have reported that they feel and "look amazing," with no one being able to guess that they had undergone cosmetic surgery.
Dr. Sadati is board certified by the American Osteopathic Boards of Otolaryngology-Head and Neck Surgery and is a Diplomate of the American Board of Cosmetic Surgery. He has earned a reputation among his peers and patients for his natural-looking results. As a painter and sculptor, Dr. Sadati has a natural talent for blending art and medical science to produce beautiful results for his patients. For more information on Dr. Sadati and his natural facelift procedure, visit http://www.galleryofcosmeticsurgery.com/.