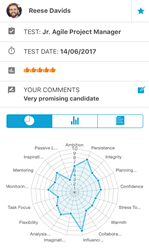 Evaluate personality strengths and weaknesses of candidates, team members or even yourself in under 12 minutes with the new GoTalent app.
(PRWEB) August 11, 2017
At a time when competition for the most skilled workers is at a record high, it's becoming more difficult than ever for companies to source the best talent for their businesses. However, one company may have come up with a way to streamline the recruitment process and help companies identify the most suitable candidates before interviewing.
Dutch company, Online Commerce Group has just launched its new job personality test app called GoTalent, which solves the problem of personality assessment when interviewing potential candidates.
Using the app, recruiters, hiring- and talent managers can build a picture of an individual's character and personality traits in less than twelve minutes – an important part of the recruitment process if you want to hire the right person for the job.
GoTalent creator, Johan Hagenbeuk explained the benefits:
'Understanding a person's character and personality traits is key to understanding their strengths and weaknesses and how well they will work in a particular role. As a pre-employment testing tool, the GoTalent app should speed up the entire recruitment process. This will save the hiring manager both time and money, while also making it much easier to identify the best applicants for the job.'
The GoTalent app is so simple to use that recruiters don't need previous experience of personality assessment. All the hiring manager needs to do is send an email using the app to each candidate. The app does the rest, directing the candidate to the download URL. The candidate then carries out a scientifically validated test, designed by qualified psychometrists, and the app returns the results to the recruiter.
Based on the results, the recruiter can then make a decision on whether to ask the candidate in for a full interview. The whole process can take less than twelve minutes, so getting a reliable candidate assessment has never been easier or more cost-effective.
Companies looking to put the GoTalent candidate assessment app to work in their organisations can find out more by visiting the GoTalent website.
For more information on this innovative online candidate assessment tool telephone Johan Hagenbeuk on 001 (347) 875-7902. Alternatively, email johan(at)gotalentnow.com