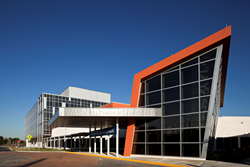 MGE offers the opportunity for us to combine our expertise and leadership in healthcare design from the interiors perspective and translate that into the exterior of the building, said John "Ozzie" Nelson, Chairman and CEO of NELSON.
Miami, Florida (PRWEB) August 09, 2017
In a move that will significantly expand architectural services in the southeast, global architecture, design, and consulting services firm, NELSON, is merging operations with Miami-based architecture firm, MGE Architects. The deal is effective immediately.
Representing one of the fastest growing areas for healthcare and related industries, the Southeast region provides a strategic growth opportunity for NELSON who is expanding their healthcare practice area.
"As we continue to grow our core and shell architecture practice, MGE offers the opportunity for us to combine our expertise and leadership in healthcare design from the interiors perspective and translate that into the exterior of the building, providing clients with the opportunity to work with one firm throughout the entire process," said John "Ozzie" Nelson Jr, Chairman & CEO of NELSON. "Additionally, MGE brings significant diversification to the work we already do in the Southeast."
NELSON's Southeast region currently provides tenant development services for 64% of Atlanta's tenant market. Additionally, the Southeast works with some of NELSON's largest accounts and has been recipient of numerous design awards including five ASID Awards, NAIOP Georgia's Firm of the Year, and a Shaw Contract National Design Award.
For MGE, joining operations with NELSON allows them to spread their expertise and knowledge as premier healthcare architects throughout the U.S.
"Joining operations with NELSON allows us to access a vast network of resources and specialties we can now offer in our local market. Through the expanded geographic reach and more marketing and business development support, we are excited for all the ways our team can better serve our existing and future clients," said Jose Estevez, Principal at MGE Architects.
MGE is the second merger for NELSON in the southeast region. The firm previously merged with
Atlanta-based VeenendaalCave in 2015. MGE Architects brings 35 years of award-winning architectural experience to the NELSON network. Some of their most notable clients include the University of Miami hospitals and clinics, Broward County Health Clinics, Baptist Health South Florida, and Miami International Airport. They will be the fifth location in NELSON's Southeast region joining existing offices Atlanta, Charlotte, Dallas, and
Tampa. This brings the Southeast Teammate count to nearly 250. The office will be managed by Jose Estevez, Rolando Conesa, and Roberto Smith.
For more information about NELSON, visit http://www.NELSONonline.com
For more information about MGE Architects, visit http://www.MGEArchitects.com
About NELSON
NELSON is part of a global architecture, design, engineering, and consulting services organization with nearly 700 Teammates in over 20 locations around the world and strong experience in a broad range of industries. NELSON is ranked in the top 10 overall Interior Design Magazine's "100 Design Giants" list and NELSON is also ranked in the top 5 for workplace interior design. Building Design and Construction ranks NELSON in the top 20 for office architecture and design. For more information, visit http://www.NELSONonline.com.
Interior Design Magazine #3 Office Sector, #9 Overall, Building Design + Construction #6 Office Sector, #17 Overall
About MGE Architects
MGE Architects provides architecture, master planning and interior design services for healthcare, educational and transportation projects in Florida and the Southeast. Headquartered in Coral Gables, Fla., the firm has completed more than 500 high-profile projects since its founding in 1982. Current and recent projects include Baptist Health South Florida Miami Cancer Institute, Broward Health Coral Springs Medical Center Bed Tower, Leon Medical Centers East Hialeah replacement facility, University of Miami Nursing School Simulation Hospital. For more information, call (305) 444-0413 or visit the firm's web site at http://www.mgearchitects.com.