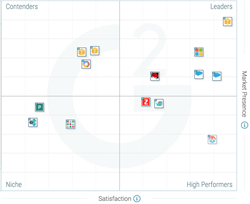 Chicago (PRWEB) August 09, 2017
G2 Crowd, the world's leading business software review platform, today released the Summer 2017 Cloud Platform as a Service (PaaS) Software Grid report to help businesses make the best cloud platform as a service (PaaS) technology buying decision. AWS EC2, Microsoft Azure, Salesforce App Cloud: Force.com, Salesforce App Cloud: Heroku Enterprise, and OpenShift were named Leaders in the report, receiving a strong customer satisfaction score with a large market presence.
Morpheus, Dokku, and Zoho Creator were named High Performers in the report, earning strong customer satisfaction marks with smaller market presence scores. AWS EC2 earned the highest overall satisfaction score and the highest overall market presence score.
The Grid leverages customer satisfaction data reported by authenticated users along with vendor market presence determined from social and public data. Based on a combination of these scores, each software solution is categorized as a Leader, High Performer, Contender or Niche.
Key Findings:

Strong Ease of Use — Users reported that PaaS tools are easy to use, manage, and master from development, through operations, to deployment. Multiple users mentioned building customized backends for applications with relative ease, making the development process much smoother. Not surprisingly, the highest average satisfaction rating was Ease of Use at 86 percent.
Customer support still problematic — Quality of Support was the lowest of all satisfaction scores with an average of 80 percent, and it showed in user responses. Users frequently cited difficulties communicating with vendors and when attempting to troubleshoot issues with PaaS products. Some users, who subscribed to lower-usage tiers, felt more neglected in comparison to users with a premium subscription.
User adoption issues — Although Ease of Use scores were the highest in the Summer 2017 PaaS Grid℠ report, User Adoption ratings were the lowest at 65 percent. Some users commented that support played a role in this, making it difficult to fully adopt PaaS systems.
About the Cloud Platform as a Service (PaaS) Software Grid report:
The report is based on more than 543 reviews written by business professionals.
Of the 58 products listed in G2 Crowd's Cloud Platform as a Service (PaaS) category, the ranked products each received ten or more reviews to qualify for inclusion on the Grid.
About G2 Crowd, Inc.
G2 Crowd, the world's leading business solution review platform, leverages more than 170,000 user reviews to drive better purchasing decisions. Business professionals, buyers, investors, and analysts use the site to compare and select the best software and services based on peer reviews and synthesized social data. Every month, nearly one million people visit G2 Crowd's site to gain unique insights. Co-founded by the founder and former executives of SaaS leaders like BigMachines (acquired by Oracle) and SteelBrick (acquired by Salesforce) and backed by more than $45 million in capital, G2 Crowd aims to bring authenticity and transparency to the business marketplace. For more information, go to G2Crowd.com.