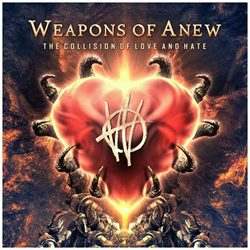 New York, NY (PRWEB) August 09, 2017
Weapons of Anew, the dynamic new band that features Freddy Ordine, Ray West, Stefan "Reno" Cutrupi, Chris Manfre, and new guitarist Kris Norris will release their debut recording, "The Collision of Love and Hate" on September 15, 2017 on OK!Good Records. The quintet will then hit the road with Tesla on September 19, through October 5, 2017.
Weapons of Anew's debut, "The Collision of Love and Hate" was produced and engineered by James F. Murphy (Havok, Necromancing The Stone, Product of Hate), mixed by Mike Ferretti (Sevendust, Warren Haynes), and mastered by Ted Jensen.
"We are all super excited to have our record coming out and an amazing tour to launch the release," states an elated Freddy Ordine. "It means the world to us! We have been extremely lucky with touring and getting to open for larger established bands."
Speaking about the tour, Ray West said, "I'm very psyched to go out on the Tesla tour. I've been a Tesla fan for a long time. I also happen to think Jeff Keith has one of the coolest voices around. For me it's a real privilege to be playing for their audiences. I have a good feeling we will connect with them. I'm all in, all positive!" Ordine remembered being a kid when Tesla's "Five Man Acoustic Jam " came out, "I dug it. So it's always an honor to be able to tour with an artist I grew up listening to."
"Playing Rock is a privilege that I don't take for granted," says West. "Performing live to an audience is very powerful and humbling at the same time. Fans at our shows can expect the high energy, emotionally charged assault, we have always delivered." Ordine adds, "A total assault on their senses, full on every night."
Earlier this year, Weapons of Anew halted their recording sessions to go on tour with Alter Bridge. "When we went out with Alter Bridge, as Weapons of Anew," states West, "we had never played a live show together before. I think we learned a lot about ourselves as performers and that our music translated well to a live audience." Ordine states, "We were able to really dial the songs in on the Alter Bridge tour. They are exactly where we wanted them. They are burnt into us all now." West continues, "Let's face it, most people don't go out to see the 1st band on a 3-band bill, so winning people over was our mission. We all worked very hard and as a band we felt it paid off. Audiences were very generous to us, but every fan that talked to us after the shows, asked 'We really liked you guys, how can I hear more songs? Where can I get the album?' Now we can say, well it's right here!"
Weapon of Anew's debut single "Killshot" is available via for digital purchase on iTunes, Bandcamp and the OK!Good Shop. The track is also streaming on Spotify and SoundCloud.
Weapons of Anew are set to launch their live assault.
Weapons of Anew and Tesla tour dates:
09/19/17 Tue. Santander PAC, Reading, PA
09/20/17 Wed. The Paramount, Huntington, NY
09/22/17 Fri. The National, Richmond, VA
09/23/17 Sat. Eastern Kentucky Expo Center, Pikeville, KY
09/24/17 Sun. Atlanta Symphony Hall, Atlanta, GA
09/27/17 Wed. Parker Playhouse, Ft. Lauderdale, FL
09/29/17 Fri. Ruth Eckerd Hall, Clearwater, FL
09/30/17 Sat. House of Blues, Orlando, FL
10/02/17 Mon. Iron City, Birmingham, AL
10/04/17 Wed. The Criterion, Oklahoma City, OK
10/05/17 Thu. Irving Music Factory, Dallas, TX
For more visit: http://www.weaponsofanew.com
###
About OK!Good Records:
OK!Good Records is a genre independent record label established in 2010 to distribute, market, and promote artists and music that defy boundaries, reject limitations, and transcend the ordinary. They champion and celebrate independent music, thought, art, expression, and enterprise. http://www.okgoodrecords.com