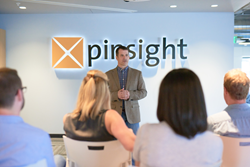 Our new home is a perfect reflection of our culture and our vision.
Kansas City, Mo. (PRWEB) August 09, 2017
After outgrowing its previous office space at 909 Walnut in Kansas City, Pinsight Media has officially settled into its new headquarters just a few blocks away with a new vision for growth.
The new 20,000-square-foot office, located on the 15th floor of the City Center Building at 1100 Main St. Kansas City, Mo., is now home to the company's 125 employees. It features an open, airy floor plan with glass-walled conference rooms and a large kitchen communal area overlooking the Kansas City skyline. There are no enclosed offices and height-adjustable desks allow employees to sit or stand, promoting a collaborative environment for employees at all levels.
"Our new home is a perfect reflection of our culture and our vision," said Kevin McGinnis, CEO of Pinsight Media. "Kansas City is a vibrant community with amazing talent and we are proud to be right in the center of it all with a great new space to support our growing team."
As part of the move, Pinsight also announced a new strategy focused on repositioning itself as the most reliable source for actionable marketing insights. A shift from its previous position as a premium ad network, the company is leveraging its exclusive access to first-party data from Sprint to focus on helping businesses uncover new audiences, discover new market opportunities and help better engage consumers through established marketing efforts.
"In today's fast-paced marketing world it is not just about the delivery mechanism but the data that fuels those decisions," said McGinnis. "We realized the data we have is extremely valuable in uncovering the unique stories of the mindset and intentions of consumers which can help drive actions and meaningful connections when it matters most."
The company's new tagline, 'Data Fueled, Insights Driven', is now highlighted on the company's new website and throughout its new office. A new product lineup is also in the process of being deployed, which includes an ID Suite of customer and marketing analytics reports as well as its Pinsight Personas for media buyers and On-Device Monetization solutions.
Since deploying it's new strategy over the last month, Pinsight has signed several new deals with leading national brands to deliver insights reports and announced new partnerships with the industry's leading data providers and media buying platforms.
While the majority of the team is based out of the Kansas City headquarters, Pinsight also has remote offices in New York, San Francisco, Los Angeles, and Dallas.
About Pinsight Media
Pinsight Media is the only source for actionable insights gleaned from first-party mobile data. Leveraging its exclusive access to verified, first-party mobile data from the Sprint family of networks, Pinsight provides actionable insights that help fuel smarter business and marketing decisions. From identifying a brand's best customers, to developing custom audiences, and reaching them on-device, the company provides solutions for every touchpoint. Pinsight Media is a wholly owned subsidiary of Sprint®. For more information visit http://www.pinsightmedia.com.