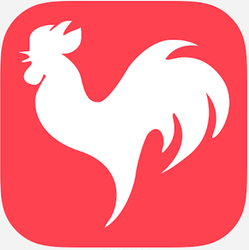 Vooster was created to change the way people share and communicate through video," says Zach Liptak Founder of Vooster
(PRWEB) August 11, 2017
Vooster, a mobile application for everyone, has launched on iOS, uniquely connecting people via video.
Through the app, users can record, react, and respond with others via video. Vooster allows you to send videos privately to a friend or post them to your daily chapter for everyone to see and get countless video responses and reactions from other users on your post.
Vooster also provides the opportunity to create daily and yearly chapters which you can look back into your chapter and relive all your best memories by watching your past videos. Vooster was designed to be the best video sharing platform on the market by creating a fun and safe sharing environment. With enhanced built in security features, users can also be assured that their personal information and videos are shared and stored safely.
"Vooster was created to change the way people share and communicate through video," says Zach Liptak Founder of Vooster "We wanted to build a new social experience that not only helps create engagement on a day-to-day basis, but stores memories of your life."
Vooster also serves as a tool and resource for content creators to quickly and easily distribute video based content.
The final result is an easy-to-use social platform that changes how video based content is created and shared.
Vooster is available to download now on iOS.
About Vooster, Corp.
Vooster Corp was established in 2017. Vooster is the next generation of video sharing and the next big thing to hit social media. Vooster allows users to share and document their lives at the touch of a button all within its fun, safe, and secure environment. Vooster has three major features: video contests, age grouping, and chaptering of videos. In addition to these features, Vooster also strives to limit and prevent cyber bullying on social media. Through age verification, Vooster only allows users to talk to others in their age group to prevent stalking, harassment, and to make sure inappropriate content stays unavailable for those under 18. With video contests, Vooster allows users to enter contests to win money for their funny videos. Vooster will also allow small and large companies to create contests for a fee to promote their brand, service, or products. Vooster also incorporates video chaptering. This feature compiles user videos into daily and yearly chapters to create users' life stories. As users look back on their videos in their future, they can relive their best memories by watching the amazing videos they previously shared on Vooster.
About The Developer
Zco Corporation is one of the largest custom developers in the world. Founded in 1989 and headquartered in Nashua, New Hampshire, Zco has served Fortune 500 companies to small businesses for over 20 years. Its services include mobile and enterprise app development, 3D animation and games, augmented reality, and custom software. To learn more, visit http://www.zco.com.
####
If you are interested in more information about Vooster please contact Kyle Mallinger at kyle.mallinger(at)zco.com.