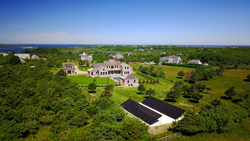 When you care for the beauty of Nantucket as much as this builder, you'd be proud to own 10 Eat Fire Spring Road, an eco-friendly estate.
Nantucket, MA (PRWEB) August 10, 2017
Being a small island, locals and visitors understand the importance of keeping Nantucket clean and pride ourselves on the island's eco-friendly efforts. In fact, Nantucket's recycling facility is the most comprehensive in the Commonwealth; and in fact, a leader in the nation.
Eco-friendly homes have begun popping up on island, but Fisher Real Estate's exclusive listing, 10 Eat Fire Spring Road is the epitome of a "smart home." Powered entirely by cutting edge solar technology, this net zero home also utilizes geothermal innovation for heating and cooling sources. Due to this, the property has an estimated lifetime utility savings of $77,000.
Nestled in the highly desired nook of Polpis Harbor and situated on over three level acres, this contemporary six-bedroom home offers a pool house and oversized two-car garage with en suite studio. The property offers easy-flowing, open-concept living, cathedral ceilings, sundrenched windows and a seamless indoor/outdoor experience. From the easily accessible widow's walk, enjoy sweeping views of Nantucket Harbor and all three lighthouses, including Sankaty. Coastal charm abounds with reclaimed wood beams mixed with natural, soothing tones of grey and white. A blue stone patio surrounds the heated salt-water pool offering the perfect spot for summer entertainment. Below, a temperature-controlled wine cellar and finished basement with a bar provides comfortable space to unwind and get away.
Additionally, deeded access to Polpis Harbor caters to both boat-enthusiasts and beachgoers alike. Designed and drawn by Thornewill Designs and constructed by Rosscorp this property is above and beyond your typical high-end real estate. 10 Eat Fire Spring Road is truly a sustainable paradise that leaves no footprint on this beautiful island.
About Brian Sullivan, Principal Broker – Fisher Real Estate
Brian Sullivan came to Nantucket in 1996 and set about building a dynamic career spanning over 20 years in Nantucket real estate. As one of the top brokers on the island, he has participated in hundreds of millions in transactions to date and has been quoted by CNN Money and Barron's. For more information, please call (508) 228-4407, or visit http://fishernantucket.com. The office is located at 21 Main Street, Nantucket, MA 02554.
About Fisher Real Estate
Founded in 2016, Fisher Real Estate Nantucket is a forward-thinking Nantucket brokerage, founded on personal relationships. At Fisher Real Estate, we know that the Island means something different to everyone, and we believe that there is a Nantucket home for everyone. More than just a piece of real estate, Nantucket is a lifestyle.