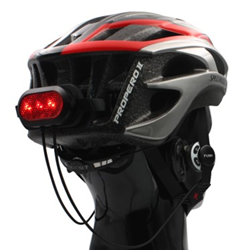 a safe solution for listening to music or taking a phone call while riding...
Newtown Pennsylvania (PRWEB) August 11, 2017
iheadbones inc, the originator of stereo bone conduction headsets, is pleased to announce the availability of the R949 Cyclist Headset with deliveries starting this month. The R949 uses bone conduction technology with acoustic devices attached to the helmet straps and pressed against the cheekbone. The sound goes through the cheekbone into the inner ear leaving your ears uncovered to safely hear ambient sounds and noises. The headset uses Bluetooth to connect to your phone and comes with a free app to control functions.
Listen to your favorite workout tunes, make or take a phone call, and have your ears uncovered to hear cars and others around you. The red LED safety light which easily attaches to the back of the helmet has 3 modes which are controlled through the app – on, steady flash and slow flash. Keep track of your ride and heart rate, select different music for different heart rates, and nod or shake your head to answer or end a phone call.
"The goal of our product offering is to provide a safe solution for listening to music while participating in an activity, like running or biking or skiing." stated Tom Buroojy, President. "Our product does not cover your ears, which allows you to be aware and alert to the sounds around you."
The Cyclist Headset comes with the acoustic devices and Safety light, charging cable, carrying case and instruction set. The play time is 8+ hours, the charging time is 1 hour. The headset is ipx6 water resistant and comes with a 1-year warranty and 30 day no questions asked return policy. The cyclist headset is available through the web site http://www.iheadbones.com and Amazon and various bike shops around the country.
About iheadbones inc
iheadbones inc was started in 2010 with the goal of providing a creative way to listen to music and podcasts while keeping your ears uncovered for safety. The original wired product is still being sold today to people that need a magnet free headset for medical reasons. The Bluetooth headset series is great for running or walking or taking phone calls while at home or work. The Cyclist Headset is easily connected to a bike helmet and easily moved from helmet to helmet.
sales@iheadbones.com
http://www.iheadbones.com
888-866-0807