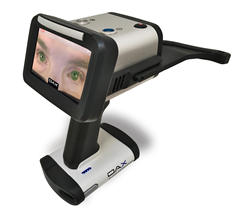 Today's announcement reinforces our commitment to develop and bring to market the tools that police officers and prosecutors need to keep impaired drivers off the road and save lives.
Pasadena, CA (PRWEB) August 10, 2017
Ocular Data Systems, Inc., creators of DAX™ Evidence Recorder, has closed on a new bridge round of funding with the Pasadena Angels. The investment enables Ocular to further develop DAX™, a groundbreaking handheld camera that specially aids law enforcement in manually testing and recording eye movements and responses. These critical signs of drug and alcohol impairment or medical conditions, not typically picked up by dash or body cameras, can be used by prosecutors as court admissible audio-video evidence of impaired driving to help settle cases before they go to court and ultimately keep officers in the field. With the new funding, investors have committed almost $1 million to the company.
Columbia University Researchers announced on July 31st of this year their findings on how deadly the U.S. opioid epidemic has become, resulting in a sevenfold increase in the number of drivers killed in car crashes while under the influence of prescription painkillers. This comes just after the Governors Highway Safety Association (GHSA) re-released its Drug-Impaired Driving Report and found that driving while on drugs was associated with more deaths in 2015 than driving with alcohol.
"The rise in prescription drug use and legalization of marijuana has certainly caught the attention of the VC community, especially with the challenges it presents for law makers and law enforcement to keep our roads safe," said Chris Wadden, chairman of Pasadena Angels. "With the industry experience behind DAX™, in addition to the company's new partners helping to bring DAX™ to market, we feel confident that this is a product uniquely positioned to change how law enforcement presents evidence from individuals tested for drug and alcohol impairment in the field."
"10,000 Americans die each year in DUI accidents. Law enforcement and the criminal justice system are grappling with the increasing American epidemic of narcotic-impaired and marijuana-impaired driving, which can't be detected with a simple breath test or even most blood tests," said Marcus O. Filipovich, Chief Executive Officer, Ocular Data Systems, Inc. "This presents a huge challenge for law enforcement, that Ocular solves by documenting the "eye signs" of impairment which are always present and are admissible in court. Today's announcement reinforces our commitment to develop and bring to market the tools that police officers and prosecutors need to keep impaired drivers off the road and save lives."
To continue to expand distribution of DAX™, Ocular has inked a distribution deal with Decatur Electronics of Phoenix, Arizona (a Soncell North America Company), a leader in traffic control solutions and a 60-year pioneer in Law Enforcement Speed Measurement. Decatur will distribute DAX™ throughout the Western, Mid-Atlantic, and South Central United States with an option to eventually expand distribution worldwide.
"There is no question that marijuana and other lethal drugs like heroin and opioids are presenting a major challenge for law enforcement during routine traffic stops," said Melvin Sheldon, Soncell North America and Decatur Electronics, Inc. Chairman. "This is why we could not be more pleased to be partnering with Ocular to bring DAX™ to the market. DAX™ is a proven technology, that when added to an officer's field sobriety test or individual's drug test, can be the key piece of video evidence that helps prosecutors defend a drug-impairment case. One day, we hope every traffic safety officer has DAX™ on his or her person. It's truly that important in the fight against drug-impaired driving."
Ocular also today announced an agreement with Stratasys Direct Manufacturing of Valencia, California, to handle the injection molding, parts procurement and final assembly of the DAX™. The world-class capabilities of Stratasys Direct allows Ocular to rapidly scale up manufacturing with higher reliability at lower cost with increased margins to meet the increased market demand.
"At Stratasys Direct Manufacturing, we love working with another local Southern California company like Ocular that is on a mission to bring products to the market that support a greater good," said Kent Firestone, chief operating officer at Stratasys Direct Manufacturing. "We are extremely pleased to work with the engineering team at Ocular to create and manufacture video recorder devices that enable as many law enforcement officers as possible to have the tools they need to save lives."
To date, 30 police agencies in 20 states and in Canada have deployed DAX™ to increase the prosecution and conviction rates for alcohol and drug impaired driving. This includes Denver PD, Los Angeles PD, the Colorado State Patrol, and the Tennessee Highway Patrol, NYPD, in addition to the Houston PD DWI Task Force, one of the company's biggest customers.
Ocular's co-founder Dick Studdard, retired Sgt. LAPD is credited as being the founder of the Drug Recognition Program (DRE) back in the early 1970s. The visionary program brought together law enforcement with doctors and researchers from around the country to develop the DRE protocol for teaching officers how to recognize the signs of drug use, in addition to alcohol. Today, the DRE program features about 8000 DREs nationally, including instructors, and is coordinated by the IACP (International Association of Chiefs of Police) with support from the National Highway Traffic Safety Administration (NHTSA) of the U.S. Department of Transportation.
"Juries increasingly expect to see video in court rooms, and though here to stay, dash and body cameras just don't capture the subtleties of the human eye that DAX™ can. The DAX™ will record a nystagmus, one's pupil size, and one's reaction to light for both court and training purposes. In addition, it will record eyelid fluttering, nuances around blood shot eyes, even track marks and body tremors, so that rather than just describing what they saw during a traffic stop, an officer can now show it. This both strengthens the prosecution's case and backs up an officers' testimony, so we keep cases out of court, and we officers in the field," added Studdard.
Ocular is a sponsor and exhibitor at the upcoming IACP/DRE Conference, August 12-15, 2017, in National Harbor, Maryland. The event brings together over a thousand drug recognition experts and prosecutors to share the latest technology and techniques for detecting, documenting, and prosecuting impaired driving.
DAX™ is available now through Decatur and Ocular representatives. For more information, visit http://www.decaturelectronics.com and http://www.oculardatasystems.com.
About Ocular
With over 5 million traffic crashes annually, costing Americans over $37 billion each year, Ocular Data Systems, Inc. of Pasadena, CA created DAX™ evidence recorder to address the epidemic of drug and alcohol impaired driving crashes and fatalities. DAX, a groundbreaking, handheld, infra-red, high-def digital video camera is sold to police agencies and allows DRE, ARIDE and SFST-trained law enforcement officers to test and record the eye movements and responses that are critical signs of impairment. DAX also provides prosecutors with court-admissible audio-video evidence to help settle drug and alcohol impaired driving cases before they go to court, to keep officers in the field and roads safer. For more information, visit http://www.oculardatasystems.com.
About The Pasadena Angels
The Pasadena Angels was founded in 2000 and is one of the longest running angel groups in Southern California. Members have invested over $75 million in over 185 companies. Pasadena Angels-funded companies have gone on to raise over $500 million from additional funding sources such as venture capital and private equity. Recent notable exits for the Pasadena Angels are Mind Body Software and Bluebeam Software. In 2015, the group invested a total of $5M in 27 companies. The Pasadena Angels was ranked one of the top ten angel investing groups in the country according to Forbes Magazine (2015). A nonprofit entity, the Pasadena Angels offers early stage start-ups capital investments, as well as mentoring from the expertise of more than 100 investor members with over 4,000 years of combined business expertise.