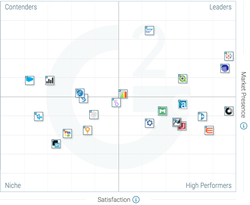 Chicago (PRWEB) August 10, 2017
G2 Crowd, the world's leading business software review platform, today released the Summer 2017 Self-Service Business Intelligence Software Grid report to help businesses make the best self-service business intelligence technology buying decision. Tableau Desktop, Information Builders WebFOCUS, SAP Crystal Reports, Qlik Sense, and Zoho Reports were named Leaders in the report, receiving a strong customer satisfaction score with a large market presence.
Chartio, Dundas BI, Alteryx, Exago, Mode Analytics, Numetric, JReport, and Izenda were named High Performers in the report, earning strong customer satisfaction marks with smaller market presence scores. Tableau Desktop and Chartio tied for the highest overall satisfaction score, while SAP Crystal Reports earned the highest overall market presence score.
The Grid leverages customer satisfaction data reported by authenticated users along with vendor market presence determined from social and public data. Based on a combination of these scores, each software solution is categorized as a Leader, High Performer, Contender or Niche.
Key Findings:

General category growth — The self-service business intelligence space continues to grow, with over 230 new reviews written on G2 Crowd since the Winter 2017 Self-Service Business Intelligence Grid℠ Report. Eight new products landed on the Grid℠ since the prior report, showing the emphasis companies are putting on analytics tools and creating data-driven insights.
Growth has no effect on adoption — Despite the high category growth, the addition of new products to the grid had little effect on user adoption. The category average user adoption only grew 2 percent, bringing the category average adoption to 54 percent. Regardless of the emphasis companies place on data-driven insights, self-service business intelligence users are hesitant to learn and use the necessary tools.
Predictive features are lacking — The lowest-rated feature in the self-service business intelligence category is predictive analytics, with an average rating of 73 percent. While not all vendors offer the advanced feature, those that do score consistently low ratings from users. However, if predictive features were easier to use, one could infer that user adoption may increase.
About the Self-Service Business Intelligence Software Grid report:
The report is based on more than 854 reviews written by business professionals.
Of the 63 products listed in G2 Crowd's Self-Service Business Intelligence category, the ranked products each received ten or more reviews to qualify for inclusion on the GridSM.
About G2 Crowd, Inc.
G2 Crowd, the world's leading business solution review platform, leverages more than 170,000 user reviews to drive better purchasing decisions. Business professionals, buyers, investors, and analysts use the site to compare and select the best software and services based on peer reviews and synthesized social data. Every month, nearly one million people visit G2 Crowd's site to gain unique insights. Co-founded by the founder and former executives of SaaS leaders like BigMachines (acquired by Oracle) and SteelBrick (acquired by Salesforce) and backed by more than $45 million in capital, G2 Crowd aims to bring authenticity and transparency to the business marketplace. For more information, go to G2Crowd.com.