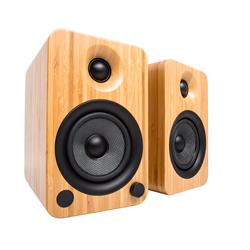 Combined with the power and connectivity of YU4 and YU6, listeners get the best of both worlds – style and performance."
VANCOUVER, B.C. (PRWEB) August 10, 2017
Following the success of their bamboo desktop speakers, Kanto has announced the popular cabinet option will soon be included with their recently launched YU4 and YU6 powered speakers.
"Our bamboo speakers have always caught people's attention." says Brett Smalley, marketing manager. "They really do add elegance to a room. Combined with the power and connectivity of YU4 and YU6, listeners get the best of both worlds – style and performance."
Available early August, the bamboo cabinets will round out an already impressive selection of colors and finishes.
For more information on YU4 and YU6, visit kantoaudio.com.
ABOUT KANTO (kantoaudio.com)
Operating out of Metro Vancouver, BC, Kanto has been designing and manufacturing audio products since 2007. Their mission to provide an auditory experience to excite the senses has led to the development of a full line of speakers and audio accessories. For laid-back listeners, hardcore gamers and vinyl enthusiasts alike, Kanto speakers leave no one behind.