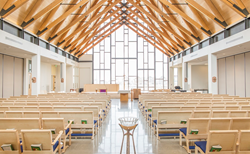 I think two keys to our success are leadership by example and our high standards of workmanship -- Titan Interiors President Rudy Kadiric
Grand Rapids, Michigan (PRWEB) August 11, 2017
Titan Interiors LLC, a Grand Rapids, Mich.-based contractor specializing in metal stud framing and drywall installation, was named two years in a row to Walls & Ceilings magazine's national list of Top 50 Contractors, one of only two Michigan companies to appear on the list.
Titan Interiors President Bahrudin "Rudy" Kadiric said he was "honored and humbled" that his company was highlighted again by Walls & Ceilings as an exceptional contractor in the interior building trade.
"We must be doing something right to be selected two years in a row," said Kadiric, who founded the company seven years ago with his brother Muhamed. "I think two keys to our success are leadership by example and our high standards of workmanship."
Titan Interiors and the other contractors on the list have exhibited "numerous skill-sets that warrant them among the best," said John Wyatt, the magazine's editor. "All in all, their talents have sustained their business model and made them industry leaders." A monthly magazine with approximate national circulation of 30,000, Walls & Ceilings provides news and information of interest to wall and ceiling contractors, architects, dealers/distributors and other industry professionals.
While he said that Titan Interiors treats every job "as if it were a million dollar project," Kadiric said he is especially proud of work that demands creative problem solving and strong project management, such as the high profile 20 Monroe Live entertainment complex, the first Hilton Garden Inn to be built in Grand Rapids, and the St. Luke University Parish in Allendale. Titan Interiors posted revenues of $12.4 million last year in commercial/industrial drywall projects, comparable to the revenues the year before.
Kadiric said the company has a peak staff of about 200 that provide high-quality interior and exterior framing, drywall installation, insulation, acoustical and specialty ceilings, acoustical sound panels, EIFS/stucco, flooring and painting.
"We are very pleased to have nearly doubled the number of team members we are working with in the West Michigan region from the prior year," he said. "That sets the stage for further growth of Titan Interiors. But we also want controlled growth, so that we never sacrifice our emphasis on quality workmanship that our customers expect."
For more information about Titan Interiors and its projects, please refer to the company's website at http://www.titaninteriors.net.