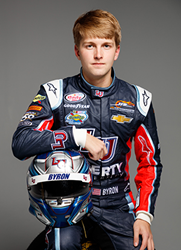 Concord, N.C. (PRWEB) August 09, 2017
William Byron, the 19-year-old Liberty University sophomore and NASCAR Xfinity Series rookie who drives the No. 9 Liberty University Chevrolet Camaro for JR Motorsports, announced today that he will race at the highest level for the 2018 season, in the Monster Energy NASCAR Cup Series. He will replace veteran Kasey Kahne in the No. 5 Chevrolet and drive for 12-time NASCAR Cup Series champions Hendrick Motorsports beginning next season, making his debut at the Daytona 500 on Feb. 18. Liberty University will continue to be a primary sponsor.
"It hasn't sunk in yet," said Byron, who will turn 20 on Nov. 29. "Mr. Hendrick has built such a great team. The people at Hendrick Motorsports have dedicated their lives to giving their drivers the best chance to win every weekend. I have a responsibility to them to work hard and put everything I have into this opportunity. They need to know I'm always giving 100 percent because that's what they do."
Byron joins seven-time NASCAR Cup Series champion Jimmie Johnson (No. 48 Chevrolet), along with fellow rising stars Chase Elliott (No. 24) and Alex Bowman (No. 88) to complete Hendrick's 2018 lineup.
Byron has posted eight consecutive top-10 finishes in the XFINITY Series, driving for Dale Earnhardt Jr.'s JR Motorsports team. Rick Hendrick signed the prospect in 2016. This year, the Charlotte, N.C., native has already earned three wins: at Iowa Speedway on June 24, Daytona International Speedway on June 30, and Indianapolis Motor Speedway on July 22, where he became the youngest driver to win at the Brickyard. He has moved into second place in the series points standings after 20 of the season's 33 races.
In 2016, Byron turned in the most successful debut season in Camping World Truck Series history with a NASCAR national series rookie record seven victories.
"When I told my parents that I wanted to drive race cars, they supported me and believed I could do it," Byron said. "Without them, there's no way this would be possible. Axalta and Liberty University are awesome partners, and I'm so thankful for their faith in me. I'm going to do all I can to make my family, my sponsors and my teammates proud and represent them all in the right way."
Hendrick, who received a $25,000 check from Liberty President Jerry Falwell last week to start the Ricky Hendrick Memorial Scholarship Fund through Liberty's Automotive Dealership Management degree program in its School of Business, expressed confidence that the young driver will continue to strive for excellence.
"At every step, William has proven how quickly he can adapt," said Hendrick, owner of Hendrick Motorsports. "Some drivers have raw talent and some have a strong work ethic. William has both. It's impressive to see a young guy who never gets rattled and instinctively knows how to communicate with his team. That level of commitment, poise and pure ability is rare at any age. I think he's just scratching the surface."
Byron is pursuing a degree in business communications through Liberty's online education program.