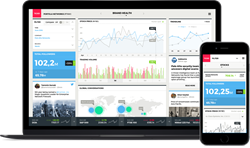 "Tickr is addressing an urgent need by providing a holistic and relevant view of real-time media intelligence about brand and business performance," said John Sifonis, a Founding Partner, Angels Three Zero.
San Francisco, CA (PRWEB) August 23, 2017
Tickr, the data applications platform for digital business, today announced that it has secured $3M in equity financing from prominent investor Angels 3.0. Tickr will use the funds to accelerate the development and scaling of its platform, which provides a pre-configured, 360 degree view of real-time data about brands, product and people from thousands of cloud sources.
"Tickr already provides a unified view of real-time data for some of the most respected brands in the world," said Tyler Peppel, Founder and CEO of Tickr. "This round of funding enables us to productize our platform and unify new data streams from a multitude of business-critical applications. We will also build out and accelerate our partnership program for companies that can benefit from reselling our platform to their existing customer base, enabling us to scale more rapidly."
"Tickr delivers value for resellers by enabling them to offer new services and features via a white-labeled integration, with zero development overhead on the reseller's part. Reselling Tickr boosts revenue by expanding deal size, and creates upsell opportunities as new data integrations are added. It also allows resellers to increase market share and attract new customers by integrating new information and insight in to their existing product platforms," said David Dowling, Tickr's Vice President, Sales.
Tickr's open data platform integrates enterprise data streams from internal business-critical applications like web analytics, CRM, ERP, and marketing automation platforms, as well as a wealth of other sources, from social networks and financial markets to news, blogs, comments and more. The platform enables business leaders in the C-suite, marketing, customer experience, corporate finance, sales, and support to make better decisions, informed by an easy to access, always-on summary of key metrics and data.
The current funding round was led by Angels 3.0, a top-tier venture capital firm with locations in San Jose, CA and Dallas, TX that focuses on startup and early stage, technology-focused companies. "Tickr is addressing an urgent need by providing a holistic and relevant view of real-time media intelligence about brand and business performance," said John Sifonis, a Founding Partner, Angels 3.0. "Their elegant interface makes enterprise data easy to access, consume and share."
"In addition, this funding will enable Tickr to do for enterprise data what Netflix is doing for video programming, by providing a single unified interface for a very wide range of sources, enhanced by filtering, post-processing, API support, and smart search," emphasized Tuan Palmer, also a Founding Partner of Angels 3.0.
About Tickr
Ever wondered why you manage your brand, products and people with static documents like Excel, PowerPoint and PDFs while the world of information moved online and into the cloud? We did too. So we built the world's first Performance Tracking Platform to unify all your data into one simple, cloud-based UI: Marketing, enterprise metrics, social, CRM and finance, all on one screen, in real time.
It's a simple idea that we think has the potential to change how all businesses are managed.
In the process, we've built a stellar team and earned the confidence of some of the world's leading brands. The Tickr platform is deployed across market-leading companies in industries ranging including consumer packaged goods, pharmaceutical, finance, and manufacturing. And we're just getting started.
Learn more about Tickr's partnership programs at http://www.tickr.com/partners
Sign up for a demo today at http://www.tickr.com/request-demo/.
About Angels 3.0
Angels 3.0 (ATZ) fills a need for a different type of angel firm—one that is personal, providing individual attention and thoughtfulness to the partnerships it builds with both entrepreneurs and investors. Through an individualized approach to investing and company/investor matching,
ATZ cultivates deep, long-lasting relationships. Trust is built through integrity and with it, greater returns for all involved.