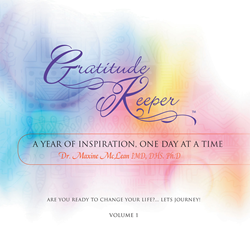 BEAMSVILLE, Ontario (PRWEB) August 14, 2017
A Canada-based natural medicine practitioner has released her easy-to-use resource designed to help readers achieve a more positive outlook in their day-to-day lives. Through "Gratitude Keeper," Dr. Maxine McLean delivers a simple guide to reaping the benefits that come from practicing gratitude, ultimately promoting a greater sense of self and wellbeing.
Inspired by her own journey to finding inner peace, Dr. McLean crafted "Gratitude Keeper" in hopes of reaching out to those who are experiencing emotional aches or seeking a fresh perspective on joyful living. Comprised of inspirational quotes, gentle realizations and easy meditations, Dr. McLean's book offers an inspirational examination of the role gratitude plays in fostering the human spirit.
"I've been privileged to meet people from diverse backgrounds, and I've listened to their stories of despair, disappointments, depression and anxiety," Dr. McLean said. "I eagerly wanted to understand more of their influences and experiences that created their paths and then to discover ways in which to assist in their healing and to impart a positive effect in their lives."
Dr. McLean hopes to aid her readers in bettering their health and fostering success in their lives by way of positive thinking and spiritual education. The author also works with villages in developing countries to craft "Gratitude Keeper" kits, which provide their communities with sustainable income opportunities and assist in bolstering their education, health care and in building wells that provide them with clean drinking water.
"Gratitude Keeper"
By Dr. Maxine McLean IMD, DHS. Ph.D.
ISBN: 978-1-5043-7821-5 (paperback); 978-1-5043-7822-2 (electronic)
Available at the Balboa Press Online Bookstore, Barnes & Noble and Amazon
About the author
Dr. Maxine McLean IMD, DHS. Ph.D. is a natural medicine practitioner, the owner of McLean Essential Care and the inventor of Sphere Therapy. In her free time, McLean enjoys painting, meditating and stargazing. She currently resides in Ontario, Canada. To learn more, please visit http://www.gratitudekeeper.ca.
Review Copies & Interview Requests:
LAVIDGE – Phoenix
480-998-2600 x 614
dgrobmeier(at)lavidge(dot)com
General Inquiries:
LAVIDGE – Phoenix
480-998-2600 x 584
mdriver(at)lavidge(dot)com