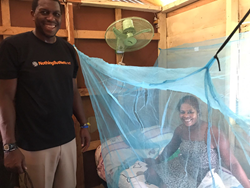 "I'm happy to see that my home country is on the brink of eliminating this deadly disease," said Lopez. "I hope my fans will join Nothing But Nets and its partners on the winning team to beat malaria once and for all."
Washington, DC (PRWEB) August 09, 2017
Former NBA player and NBA Cares Ambassador Felipe Lopez recently traveled with the United Nations Foundation's Nothing But Nets campaign to Dajabon, Dominican Republic to help fight malaria. There, he met with officials from the National Center for Tropical Diseases Control within the country's Ministry of Public Health and Social Assistance to learn about the progress made toward malaria elimination on the island of Hispaniola. He also met with community health workers, civil society organizations, children and families affected by malaria.
Lopez, a native of Santiago, also visited the Dominican Republic to see the efforts of his private foundation, the Felipe Lopez Foundation, that provides opportunities for at-risk youth.
"I'm happy to see that my home country is on the brink of eliminating this deadly disease," said Lopez. "I hope my fans will join Nothing But Nets and its partners on the winning team to beat malaria once and for all."
By 2016, the Dominican Republic had only 755 malaria cases, down from almost 3,000 in 2010. This progress was made possible due to the scale-up of community health workers supported by U.S. Government agencies, the Pan American Health Organization, and the Global Fund to Fight AIDS, Tuberculosis and Malaria. This strategy allowed access to remote areas and mobile populations, making it possible to achieve universal access to malaria diagnosis and treatment, as well as to implement an excellent community-based surveillance system.
Nothing But Nets is the world's largest grassroots campaign working to protect vulnerable families from malaria, a disease that kills a child every two minutes. Malaria is preventable and treatable – and in the Dominican Republic, it is on the path to being eliminated by 2020. Since 2016, Nothing But Nets has partnered with the Malaria Zero Alliance to mobilize additional resources and momentum to ending the disease in Hispaniola.
"The Dominican Republic and Haiti represent the only island in the Caribbean where malaria is still endemic. Elimination in Hispaniola is an important milestone toward a malaria-free Americas," said Margaret Reilly McDonnell, Director of Nothing But Nets. "We are thrilled to have Felipe Lopez join the cause to help us inspire the momentum needed to ensure no child dies from a mosquito bite."
NBA Cares is a founding partner of Nothing But Nets, inspiring countless basketball fans to join the fight against malaria. Two-time NBA MVP Stephen Curry, along with several other professional and Olympic athletes, have joined the cause to help end malaria for good.
Since 2006, Nothing But Nets has raised more than $60 million from hundreds of thousands of grassroots supporters, and in cooperation with the United Nations and partners, delivered more than 10 million bed nets and other malaria prevention and treatment to families in 31 countries around the world. Anyone—from students to superstars to CEOs—can help protect families from malaria. To help Felipe Lopez save lives, visit http://www.NothingButNets.net.
# # #
Contacts
Rachel Henderson
Communications Manager, Nothing But Nets
rhenderson(at)unfoundation(dot)org
570.259.2205
Patty Sanchez Bao
Officer, Malaria Communications and Advocacy, Nothing But Nets
PSanchezbao(at)unfoundation(dot)org
202.903.0698
About Nothing But Nets
Nothing But Nets is the world's largest grassroots campaign to save lives by preventing malaria, a disease which claims the life of a child every two minutes. Inspired by sports columnist Rick Reilly, hundreds of thousands of people have joined the campaign that was created by the United Nations Foundation in 2006. Nothing But Nets has raised over $60 million to help deliver ten million bed nets to families in need, along with other crucial malaria interventions. In addition to raising funds for its UN partners, Nothing But Nets raises awareness and voices to advocate for critical malaria funding for the U.S. President's Malaria Initiative and The Global Fund to Fight AIDS, Tuberculosis and Malaria. It only costs $10 to help save lives from this deadly disease. Visit http://www.NothingButNets.net to defeat malaria.
About the United Nations Foundation
The United Nations Foundation builds public-private partnerships to address the world's most pressing problems, and broadens support for the United Nations through advocacy and public outreach. Through innovative campaigns and initiatives, the Foundation connects people, ideas, and resources to help the UN solve global problems. The Foundation was created in 1998 as a U.S. public charity by entrepreneur and philanthropist Ted Turner and now is supported by philanthropic, corporate, government, and individual donors. Learn more at: http://www.unfoundation.org.
About the Felipe Lopez Foundation
Located in Santiago in the Dominican Republic, the Ministry of Faith (Ministerio de FE) is a non-profit run by Felipe Lopez which works to connect socially responsible individuals and companies to provide resources, guidance, and mentoring programs for under privileged youth ages 5 – 21 in the area of sport, culture, and education.