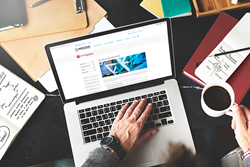 We were attracted to ARCOM's huge benefit of a single platform where hundreds of manufacturers participate by offering 3rd-party, vetted specifications consistent to one standard. Tracie Thomas, Marketing Manager, Boon Edam
Lillington, NC (PRWEB) August 09, 2017
Boon Edam Inc., a global leader in security entrances and architectural revolving doors, and ARCOM, the leader in building specifications, are pleased to announce that Boon Edam's product data and customized specifications for the Americas are available through ARCOM's software platforms to architects, engineers, and design professionals.
ARCOM and Boon Edam have worked together to create customized versions of industry-trusted, MasterSpec® sections to accurately specify Boon Edam's unique products. Along with these specification sections, Boon Edam's product catalogs and data sheets are easily accessible to specifiers when working on their projects.
The following products will be available on September 1st on the ARCOM platform:

The last two doors are high security door products that work in conjunction with access control systems to prevent tailgating and/or piggybacking into secure areas of buildings.
"Boon Edam is pleased to make its product data available to the extensive ARCOM community, said Tracie Thomas, Boon Edam Marketing Manager. We were also attracted to ARCOM's huge benefit of a single platform where hundreds of manufacturers participate by offering 3rd-party, vetted specifications consistent to one standard. Designers can pull together a complete and sound building specification very quickly, and we wanted to be a part of that. We are excited to participate in this innovative platform and look forward to helping designers with any questions concerning the best fit for a particular building or application, which is our specialty."
ARCOM and Boon Edam are confident this relationship will benefit all design professionals as they specify and select products.
For Further Information, Please Contact:
Tracie Thomas
Marketing Manager
T 910 814 8239
E tracie.thomas(at)boonedam(dot)com
For Media Queries, Please Contact:
Bruce Doneff
Public Relations
T 843 476 3022
E doneff(at)verizon(dot)net
About Royal Boon Edam
With work environments becoming increasingly global and dynamic, the smart, safe entry has become the center of activity in and around many buildings. Royal Boon Edam is a global market leader in reliable entry solutions. Headquartered in the Netherlands, with 140 years of experience in engineering quality, we have gained extensive expertise in managing the transit of people through office buildings, airports, healthcare facilities, hotels and many other types of buildings. We are focused on providing an optimal, sustainable experience for our clients and their clients. By working together with you, our client, we help determine the exact requirements for the entry point in and around your building. Follow Boon Edam Inc. on Facebook, Twitter, LinkedIn and our blog and read the latest news at http://www.boonedam.us/news.
About ARCOM
ARCOM, the specification experts, exclusively publishes MasterSpec®, a product of the American Institute of Architects (AIA), reaching over 60,000 design professionals involved in building projects. ARCOM owns and publishes SpecText® for use by engineers for infrastructure projects, including water and wastewater utilities and equipment. ARCOM provides extensive product and manufacturer information through cloud-based specification resources, custom manufacturer specifications, and the SpecBuilder Expert platform. ARCOM's innovative software specification tools and resources dramatically simplify specification creation, research, and project management. Follow ARCOM on Facebook, Twitter and LinkedIn.