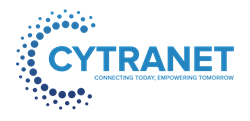 "This has been a historic year for Cytranet so far."
MOBILE, AL (PRWEB) August 10, 2017
Cytranet, a leading provider of nationwide VoIP telephone and fiber-based internet services has announced an expansion into 22 additional states. Company executives unveiled the expansion in the second quarter 2017, with plans to complete the project by the fourth quarter of 2017. Cytranet provides fiber internet, VoIP telephone, data center, and managed IT services to clients nationwide.
"Companies today expect that the voice and data carrier they select will be flexible, providing reliable technology services that enable them to grow their business on their terms," said Chase Nelson, Director. "The addition of these additional states to our already large infrastructures demonstrates that we are listening closely to the needs of our clients and are committed to helping them realize their business goals."
Cytranet provides direct fiber and VoIP connectivity to thousands of business and enterprise clients globally. Whether a business requires only simple internet connectivity or complex multi-site WAN solutions, Cytranet delivers flexible, reliable and secure high-performance bandwidth options, connecting them to one of the fastest and most reliable networks. Cytranet's VoIP network covers the entire continental US, and the company boats a strong feature set of over 100+ premium calling features.
"Our customers demand the most reliable and feature-rich voice services on the market. We design, build, implement, and manage these services nationwide. With thousands of phones in use, producing millions of minutes of voice traffic every month, our network is tried and proven." said Nelson. "This has been a historic year for Cytranet so far," said Nelson. "Recently announcing our company's refocus on the data and voice markets and launch into the national market, Cytranet has positioned itself as the fastest growing provider in the regional telecom space."
About Cytranet
Cytranet is a North American operator of secure, compliant, highly available VoIP and fiber networks. We are the trusted guardians of our clients' mission-critical voice and data needs. To tour a Cytranet data center or receive additional information on services, please visit http://www.cytranet.com.