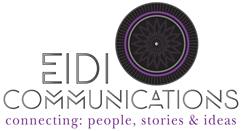 EIDI Communications works with clients that carry a positive message and that try to make the world a little bit better in their own way.
(PRWEB) August 11, 2017
Eidi Communications is proud to have our client's story, and his organization, featured on CNN and CNN.com.
Todd Crandell spent 13-years destroying his life, body and relationships addicted to heroin, cocaine, alcohol, and every prescription drug he could get his hands on. But, after his third arrest he quit cold turkey. Since sobriety, he's run 28 Ironman in 15 countries and across 6 continents. He runs Ironman (70.3) in Atlantic City, NJ on September 17. He's also signed up for Ironman Boulder in June 2018.
Crandell races with clients who have overcome drug and alcohol addiction to show recovery is real and possible.
Nearly 24 million Americans are addicted to drugs and/or alcohol; many of them fail at rehab — again and again. Many die. Crandell's organization, Racing for Recovery, helps thousands overcome their drug and alcohol dependence through healthy and holistic living — it's an approach to sobriety that is working where the 12-step traditional program often fails.
By featuring his story and the Racing for Recovery program, CNN shines a light of hope and inspiration to the millions currently battling addiction.
Todd Crandell is a father, Ironman, addiction counselor, vegan and author. For more information or to interview him, contact lila(at)eidicommunications(dot)com.
About Eidi Communications:
Eidi Communications is a communications company based in Boise, Idaho, working with clients across the globe. Led by a journalist and former network news producer, we specialize in publicity, marketing, writing, video storytelling and all forms of communication. We enjoy working with clients and brands that carry a positive message, and that try to make the world a little bit better in their own way. Clients have been featured have been featured in CNN, USA Today, The Doctors, Zenruption, the LA Times and several other media outlets.