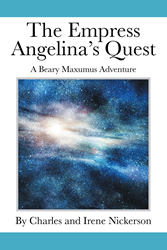 DES MOINES, Iowa (PRWEB) August 14, 2017
A father-daughter duo have teamed-up to share their personal fiction stories with the public. "The Empress Angelina's Quest," written by authors Charles & Irene Nickerson, is the third book an adventurous science fiction which focuses on the importance of honor, faith, friendship, love and the fighting of good against evil.
In 'Quest,' Beary and his friends, Pompey, Artemus, Caesar and Ben team up to complete the construction of a new warship. Unbeknownst to the group, evil forces are plotting to invade the Bearilian Society, resulting in the team coming together in the ultimate battle of good against evil.
Nickerson began telling the story of Beary and his friends to his daughter, co-author Irene, at a very young age and developed the characters when he was a child. "I've been sharing these stories with my daughter since before she could read," the author said. "Then, one day, she told me to write them down because she would forget them. After doing that, she helped me further develop the female characters and the stories kind of took on of life of their own."
"The Empress Angelina's Quest is a well-written story full of adventure and romance," a reviewer wrote about the book. "If you like science fiction, you will surely enjoy this book."
An action-packed science fiction full of adventure, "The Empress Angelina's Quest: A Beary Maxumus Adventure" is a fun read while teaching children and teenagers the importance of true friendship.
"The Empress Angelina's Quest: A Beary Maxumus Adventure"
By Charles & Irene Nickerson
ISBN: 978-1-5035-4405-5 (softcover); 978-1-5035-4355-3 (electronic)
Available at the Xlibris Online Bookstore, Amazon and Barnes & Noble
About the author
Charles Lansford Nickerson has a Masters of Arts in History from the University of Northern Colorado and a BS in History from Iowa State University. He is also a Veteran of the United States Air Force, where he served as a Missile Combat Crew Member. He also taught History in Christian Schools for 10 years. He has previously published two acclaimed Poems. Irene Jean Nickerson is a graduate of Ankeny Christian Academy in Ankeny, Iowa. She is a graduate of Central College in Pella Iowa.
###
Review Copies & Interview Requests:
LAVIDGE – Phoenix
Chris Peña
480-998-2600 x 519
cpena(at)lavidge(dot)com
General Inquiries:
LAVIDGE – Phoenix
Bryan Beach
480-998-2600 x 510
bbeach(at)lavidge(dot)com