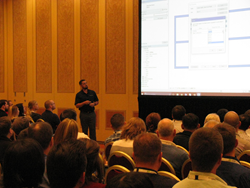 What we do is the very heart of what AU is—learning and growing professionally, gaining new skills and improving existing ones, and exploring the future of making things. - Matt Murphy, Senior Director of Product Strategy
Bedford, NH (PRWEB) August 10, 2017
4D Technologies, a leading developer of innovative content delivery and in-application support tools, is pleased to announce that eight members of its CADLearning content development team will be presenting product sessions and hands-on labs at Autodesk University Las Vegas (AU Las Vegas), the world's largest gathering of Autodesk users. With eight speakers presenting eighteen sessions, 4D is sending more speakers to AU Las Vegas than any other Autodesk Authorized Publisher, further cementing its position as the leading creator of Autodesk learning content.
"This year, over 40,000 votes were cast by the Autodesk user community to determine the content of this year's conference tracks," says 4D Senior Director of Product Strategy, Matt Murphy. "It should come as no surprise that this community selected such a large number of sessions authored by the CADLearning team. Our content creators improve performance and productivity with practical solutions to industry problems every day. What we do is the very heart of what AU is—learning and growing professionally, gaining new skills and improving existing ones, and exploring the future of making things."
AU Las Vegas takes place November 14-16, 2017, at The Venetian in Las Vegas, NV. Registration for the event is open now. The following is the full slate of sessions being presented by CADLearning content creators:
AE122846 – Drones, Cameras, and Fusion 360! Oh, Maya!
AS123243 – 30 Revit Productivity Enhancements You've Missed!
AS124016 – Rendering Compelling Photographic Scenes Using Revit, 3ds Max 2018, and Arnold
BLD122445 – AutoCAD versus Revit – Common Annotation Tips and Tricks
BLD123767 – Advance Steel and Revit – A Seamless Workflow
CI121344 – The Pressure of Content Catalog Editor – How To Create Parts in CCE for Civil 3D
CI121345-L – Planes, Trains & Automobiles with Vehicle Tracking – How to use Vehicle Tracking
CI123034 – Inventing the Civil World – Inventor for Civil 3D and InfraWorks Users
CP124007 – 3D Printing and Prototype Development with Fusion 360
ES122419 – Taking Your Data into the Cloud: Introducing the Revit P&D Modeler
ES122429-L – Perfecting the System for Revit
ES122794 – Managing BIM Projects Without Going CRAZY
ES123088-L – Dynamo DesignScript for MEP
ES123225 – Increasing the Parametric-ness of MEP Designs (Dynamo Included)
ES123269-R – An Open Discussion on Current MEP Workflows in Revit
FTV124011-L – The Mechanics of Motion Automation in 3ds Max 2018
MFG123764 – 3D Modeling in AutoCAD
MSF123198-L – MEP Analytics with Dynamo
About 4D Technologies
4D Technologies is transforming the way the world learns. Our experienced team of instructional design professionals are creating the next generation of solutions for the efficient consumption of knowledge and skill development. Using highly intuitive and adaptable content portals and in-application performance support tools, 4D Technologies is revolutionizing corporate education and technical support with proven solutions that maximize content retention, productivity and overall performance. To see our technology in action, visit http://www.CADLearning.com.
About CADLearning
CADLearning by 4D Technologies is the premier learning partner for all things Autodesk. CADLearning delivers expertly created content ideal for A-Z training, product help and performance support. Our on-demand, customizable learning systems identify and address knowledge gaps and provide in-application support to maximize performance for users of Autodesk 2D and 3D design, engineering and entertainment software. Our continuously growing library of self-paced learning material—including videos, exercise files and assessments—stays current with the latest software releases for AutoCAD®, Autodesk® 3ds Max®, Autodesk® Inventor®, Autodesk® Maya®, Autodesk® Revit® and more. For more information, please visit http://www.CADLearning.com.