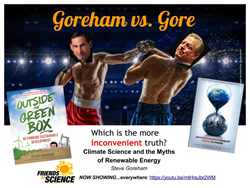 In energy terms the current generation of renewable energy technologies alone will not enable a civilized modern society to continue!
Calgary, Alberta, Canada (PRWEB) August 10, 2017
While Google "diversity" debate rages on the internet, with the employee in question being fired for "promoting stereotypes" as reported by The Telegraph, August 08, 2017, another type of stereotype about energy seems to be promoted by Google.
Google posted a "Climate and Technology" interview between Google's Sustainability Lead, Kate Brandt, and Al Gore, on Aug. 4, 2017 in advance of the release of Gore's new movie "An Inconvenient Sequel" [LINK: youtu.be/YO_zKWeFB_U] Mr. Gore was promoting wind and solar, energy forms that Google's RE<C research team by 2011, found would not reduce carbon dioxide, could not provide dispatchable, reliable power and would not address climate change, as reported in IEEE Spectrum, Nov. 18, 2014.
Much of Mr. Gore's claims are encapsulated in commentary in The Argonaut of Aug. 2, 2017, wherein he states "We have the solutions now. Solar and wind electricity have come down incredibly fast in price."
Prof. Michael J. Kelly, professor of electrical engineering at Cambridge University does not see wind and solar as solutions, as reported in a paper in MRS Journal, May 23, 2016. Regarding the Energy Return on Investment (EROI) of wind and solar, he states: "In energy terms the current generation of renewable energy technologies alone will not enable a civilized modern society to continue!"
Mr. Gore also mentions storage in batteries as a potential solution. As reported by Australian Broadcasting Corporation's "PM" show on Aug. 7, 2017, in an interview with Matt Howell, CEO of the Tomago Aluminum, industrial power demands are such that even with massive battery technology: "...it's fair to say at the moment the largest battery in the world - 100 megawatt hours - would power this [aluminum] smelter for less than eight minutes."
Mr. Howell goes on to say: "…there is no aluminium smelter anywhere in the world that is powered by wind and solar. We need continuity of supply and that means thermal [coal or natural gas]."
In Canada, Al Gore and Jeff Skoll were interviewed by MacLean's Magazine July 31, 2017, and Jeff Skoll made the astonishing statement that: "we can have a global grid with batteries, solar, and wind within a decade if we put our minds to it."
According to a peer-reviewed paper in the Journal of Renewable and Sustainable Energy Reviews by Heard et al (2017) entitled "Burden of Proof:" "there is no empirical or historical evidence that demonstrates that such systems are in fact feasible."
Likewise, green energy advocates like Mr. Gore who claim that the electric car will revolutionise society inconveniently neglect to mention how much more electrical power will be required, or the trillions of dollars in costs for power grid, transmission and distribution line upgrades, as discussed by Euan Mearns blog post in "Energy Matters" Oct. 09, 2016.
Friends of Science has issued "An Inconvenient Challenge" to Al Gore's film in the form of the video of their recent event with climate and energy author/speaker Steve Goreham "Climate Science and the Myths of Renewable Energy" – now playing everywhere, all the time, on YouTube.
About
Friends of Science is celebrating 15 years of reviewing a broad spectrum of literature on climate change and have concluded the sun is the main driver of climate change, not carbon dioxide (CO2).
Friends of Science Society
P.O. Box 23167, Mission P.O.
Calgary, Alberta
Canada T2S 3B1
Toll-free Telephone: 1-888-789-9597
Web: friendsofscience.org
E-mail: contact(at)friendsofscience(dot)org
Web: climatechange101.ca