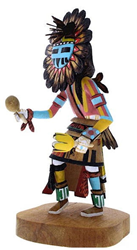 Each artist tries and succeeds in telling their story and these vibrant spirits come alive in their work
(PRWEB) August 11, 2017
Kachinas are the ancestral spirits of the Hopi Native Americans. Their belief is that for six months, these spirts leave their home in the mountains to live with and protect the members of the tribe. Their arrival is set in either January or February and is usually celebrated as the "POWAMÛ FESTIVAL." In July, they leave and go back to their home in the mountains. This celebration is known as the Niman Kachina Festival, featuring ceremonial dances.
A company that has proudly worked with Native American artists is SilverTribe.com. Partnering with talented artisans among the Zuni, Hopi, and Navajo, this business has made a name for itself in the Southwest for its unique fashions and elegant jewelry creations.
The Spokesman for SilverTribe.com, Chris Anderson, gave a few words on the team's latest release.
"Kachinas represent some of the finest works of art we have in our collection. These hand-made pieces are made with both skill and religious determination. Each artist tries and succeeds in telling their story and these vibrant spirits come alive in their work. Although the Niman Festival signifies they are leaving the tribes for their home, it's a celebration because they know the Kachina will be back next year. Our hope is that the general public finds these creations as beautiful and mystifying as our team has putting has, while putting the collection together."
During the Niman Kachina Festival, the masked dancers represent the Kachinas themselves, often adopting the various personalities that are attributed to them as they interact with the Native children watching in awe of the celebration.
Anderson offered some insight into some of the festivals he and his team have been fortunate enough to witness. "The celebrations are full performers pounding their feet and chanting to the rhythm. The masks and dress they wear completes the scene, as they hold green cornstalks, carry musical instruments made from gourds, and notched sticks are laid across the gourds. It's unlike anything else in the world. I hope people get a chance to start embracing this rich and vibrant culture as they learn more from our site and the artists we represent.
Those interested in the new collection of Hopi Kachina dolls offered by SilverTribe.com are welcome to visit their site and call for any question they may have.