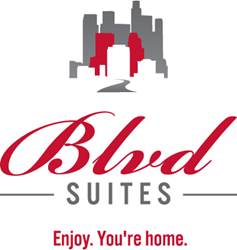 I am fortunate to be joining such a respected company that prides itself on top quality service.
Oak Park, Mich. (PRWEB) August 10, 2017
Blvd Suites Corporate Housing, an award-winning global provider of fully serviced and furnished apartments, welcomes Maria Schmitt to the team as its Vice President of Supply Chain.
Schmitt, an industry veteran with more than 20 years of experience devising and executing strategies to support global mobility, comes to Blvd Suites from Oakwood Worldwide where she lead global mobility efforts. In this new role, created to support Blvd Suites' growing portfolio of global clients, Schmitt will augment the company's current supply chain by identifying, developing and managing new strategic partners worldwide.
"The success of Blvd Suites is tied directly to providing our customers with the best in service, facilitated by associates that truly care about each and every guest experience," says President Jason Luther. "Maria Schmitt enhances our ability to continuously develop cutting edge innovations that will delight our guests around the world."
Schmitt will be integrated into sales and operational efforts, as well as the development and onboarding of new technology, to streamline processes and reduce operational costs.
"We are incredibly grateful to have Maria join our team," says Founding Partner Mike Dunklee. "Her vast experience and leadership qualities will help us expand upon our company's efforts to strategically partner with pre-eminent suppliers worldwide to ensure the Blvd Suites guest experience is felt by every client, every time, anywhere around the globe."
"I am thrilled to start a new challenge at Blvd Suites and look forward to working with the team to further develop their already extensive global portfolio," says Schmitt. "I am fortunate to be joining such a respected company that prides itself on top quality service."
About Blvd Suites
Blvd Suites is an award-winning global provider of fully furnished temporary housing. The company supports its customers with regional locations across the United States, and services global placements from its London service center in the United Kingdom.
The company was named Company Member of the Year by the Corporate Housing Providers Association in 2009, and has been a finalist for the award in 2007, 2008, 2010, 2011 and 2015. Blvd Suites received the association's award for Most Creative Marketing in 2015. In 2016 and 2017, the company was named a finalist for the Expatriate Management & Mobility Award (EMMA) in the category of Corporate Housing Provider of the Year, presented by the Forum for Expatriate Management. Blvd Suites was selected as Runner-Up in the category in 2016, and second runner-up in 2017. The company was named "Most Trusted Corporate Housing Specialist – USA" in Acquisition International magazine's 2017 Global Mobility Immigration & International HR Awards. And in 2017, Blvd Suites was named the #2 Best Place to Work among small businesses in the Denver area by the Denver Business Journal, and named to the Metropolitan Detroit's Best and Brightest Companies to Work For winner's list.
Blvd Suites can be found online at http://www.BlvdSuites.com. Follow us on Twitter and Instagram @BlvdSuites, receive news and updates at Facebook.com/BlvdSuites. Find out "What Makes Us Suite" and experience our serviced apartments virtually on YouTube at http://www.bit.ly/BlvdSuites_YouTube.