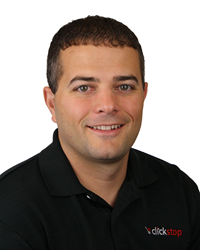 The members of this leadership team have demonstrated their abilities to lead through a tremendous amount of growth and change over the years.
Urbana, IA (PRWEB) August 10, 2017
Clickstop is announcing a newly formed Executive Leadership Team to coincide with its transition to a shared-services model.
Announced last month, the Urbana-based company is revamping its strategy to foster an entrepreneurial environment. Clickstop owns and operates multiple business units, or brands, which will now utilize centralized operations such as information technology, talent acquisition, training, marketing, warehousing and shipping.
The executives will work alongside Tim Guenther, Clickstop founder and CEO, to help move the entire organization toward fulfilling its long-term objectives, values, mission and strategy.
"The members of this leadership team have demonstrated their abilities to lead through a tremendous amount of growth and change over the years," Guenther said.
Executives fall under several areas of the company.
Tom Altman was appointed chief technology officer. He will oversee the company's information technology team, in charge of hardware, software and websites. Altman began his career at Clickstop as a web developer in 2010 and most recently was vice president of technology.
Tammy Karr has been named president of the Clickstop Accelerator team, which includes small- to medium-sized e-commerce retailers. In addition, she will integrate and operate anticipated e-commerce business acquisitions. Karr previously served as general manager of the company's Bing Miller division, driving the operations, sales and marketing of EcoFoil.com, FastenersPlus.com, SpaceSavers.com and JustPlasticBoxes.com. Those brands have since become part of Clickstop Accelerator. Karr started at Clickstop in 2012.
Todd Kuennen is now Clickstop's chief intelligence officer and executive vice president, providing business intelligence knowledge and resources. Hired as Clickstop's chief financial officer in 2009, Kuennen was promoted last fall to president of US Cargo Control, Clickstop's flagship business unit. In that role, he was responsible for strategic direction, performance and overall leadership.
Monica Steffeck will be Clickstop's chief talent enrichment officer. Duties involve providing resources and creating an environment to sustain a thriving and engaged workforce. Steffeck has been with the company since 2013. Past job titles include co-vice president of talent enrichment, engagement specialist and culture and communications project manager.
Chad Brandmeyer, who joined Clickstop in May as chief financial officer, is tasked with developing the company's financial well-being. He will offer strategic growth plans, financial projections and trending information, as well as oversee accounting activities. Brandmeyer came to Clickstop from RSM US LLP in Cedar Rapids, formerly McGladrey, a leading provider of audit, tax and consulting services.
Phil Akin started last month as chief marketing officer, heading up the expansion of marketing to serve all Clickstop business units. Akin also works as a best practice chairman for Vistage International, a chief executive coaching and leadership development organization. He will continue in that position via a new training business unit at Clickstop.
To complete the executive leadership team, Clickstop expects to launch a search yet this summer for a chief operating officer.
About Clickstop, Inc.
Clickstop, based in Urbana, Iowa, grows business units of different sizes, serving multiple industries and markets by employing Business Unit Fanatics™ and supporting these individuals through shared services. Clickstop drives business unit growth through alignment with its core values, an engaged workforce and sustaining an entrepreneurial environment designed to quickly and effectively navigate change. The company's Business Unit Fanatics™ grow businesses within Clickstop by effectively utilizing shared services provided within the organization. The company's reputation and commitment to great workplace culture and engagement has landed it multiple workplace-focused awards including multiple first-place finishes as the Coolest Place to Work in the region. For more information, visit Clickstop.com.
About US Cargo Control
US Cargo Control is a leader in the cargo control industry, specializing in cargo control, lifting slings, rigging equipment and moving supplies. With growing product offerings and a focus on innovation, the company is committed to offering quality products, timely delivery and an excellent customer experience. Expanding manufacturing capabilities and custom options further ensure customers get what they want, when they need it.