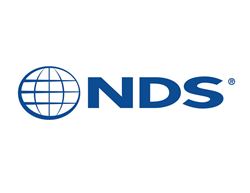 Woodland Hills, Calif. (PRWEB) August 10, 2017
Storms at the end of summer in most parts of the country are typically fast and fierce, often arriving with little warning and delivering a deluge of water with high winds that can damage homes, yards, landscapes and gardens. In addition, the National Oceanic and Atmospheric Administration projects this year's Atlantic hurricane season—which runs through the end of November—will be "extremely active" and potentially the most active since 2010.
"During the last days of summer and heading into peak hurricane season, It's important for homeowners to think ahead and make preparations to minimize any potential damage while also heading off larger, more expensive problems later on," said Ryan Larsen, a civil engineer at NDS, Inc., a manufacturer of wide range of drainage and stormwater management products. Larsen is also known as "Dr. Drainage" in NDS's YouTube instructional video series about how to select and properly install solutions that fix the 8 most common water problems encountered by homeowners.
To help homeowners prepare, Dr. Drainage offers the following eight tips:
1. Designate a space as a storm center
Create a space in the pantry, garage or basement specifically for storm preparedness. Use it to store flashlights, batteries, candles, bottled water and non-perishable foods, among other things. The Federal Emergency Management Agency has a website devoted to storm readiness and provides a list of specific items that ought to be included in storm preparations; it also explains the frequency with which certain supplies should be swapped out if they haven't been used.
2. Stock up on water
Flooding from summer storms can taint the local water supply, so make sure there's enough safe, potable (i.e. drinkable) water. It's a good idea to keep 3-4 cases of bottled water in the garage or basement, just in case. Should access to clean water not be possible, the general rule of thumb is to plan on using one gallon of water per person per day (plus extra for each pet).
3. Close windows
This may seem obvious, but windows are one of the biggest things homeowners overlook when a storm is approaching. Make sure windows – and especially, basement windows – are closed. Basements or crawlspaces often have windows or small vents on exterior walls and, if not properly secured, they can funnel pooled water directly into a home.
4. Prune trees
Flying branches and falling trees are some of the most common – and expensive – causes of damage during hurricane season, and regular tree maintenance can mean a world of difference when it comes to tree strength during a storm. Preventative pruning to thin the top of the tree reduces wind resistance and, in turn, reduces the force that can damage branches or the trunk of the tree. Pruning also removes dead branches that can break easily and cause damage to the tree and the surrounding landscape.
5. Inspect yards for obstructions
Remove any ground-level branches, leaves, trash or other debris from yards that can become obstructions to storm water drainage systems and cause flooding. Secure patio and lawn furniture, toys and garbage cans that can become projectiles during high winds. As a general practice, it's best to never dump anything down storm drains — sweep grass clippings, fertilizer and soil onto your lawn so they don't get washed into storm drains.
6. Clean out gutters and downspouts
Inspect gutters and remove any debris that has collected; this ensures that water can properly flow through gutters, and away from the roof and home. Doing this reduces the chances of buildup and clogging once a storm hits. After removing twigs, leaves and any other obstructions out of the gutters, run water through downspouts to make sure they work properly.
7. Ensure water flows away from homes
If water isn't carried far enough away from a house, it can seep into the foundation and flood flower beds, planter boxes and plants in containers, making a mess and creating standing water as a breeding ground for mosquitoes. Make sure the downspouts from gutters carry water at least 10 feet away from a home. If they don't, install downspout extension pipes, which can be purchased at a local hardware or home improvement store. It's also advisable to install a catch basin. This collects water from the landscape and downspouts; it connects to a drainage pipe and discharges water away from the house.
8. Clear debris from street drains
It's a good idea to check for debris that may be blocking stormwater drains in the street. By doing this, homes and properties will be better protected overflowing streets and flooded lawns that can cause seepage back into a basement and other low-lying areas.
For more information about how to select and install solutions for fixing the 8 most common water problems encountered by homeowners, visit NDS's Home Drainage Center.
About NDS, Inc.:  
NDS is a leading manufacturer of stormwater management, efficient landscape irrigation, and water flow management products and solutions for both residential and commercial markets. Headquartered in Woodland Hills, Calif., NDS's products are sold at major retailers and wholesalers throughout the U.S., and online at http://www.ndspro.com.